The Canon EF-S 18-135 mm lens STM arrived June 2012 on the market as the successor to the popular Canon 18-135 mm lens. If you wish for an upgrade from a Canon kit lens to a zoom lens with a larger focal length range, then the choice between the Canon 15-85 mm (with an emphasis on wide angle) or the Canon 18-135 mm STM (with emphasis on telephoto) seems logical. Compared with the previous 18-135mm version, a zoom lock is added and you can manually adjust focus at any time without first turning off the AF.
EF stands for "electronic focus", indicating that it is an autofocus lens. The addition S ("small-format only") means that this lens can only be used on the Canon cameras with a crop factor, such as the Canon 650D or 60D. Whenever you switch to a full frame camera, like the Canon 5D MK3 or the Canon 6D, you can not use this lens anymore.
The focal length range of the Canon EF-S 18-135mm f/3.5-5.6 IS STM makes this a versatile lens, which is suitable for many subjects varying from portraits and landscapes to action photography.
Field of view Canon 18-135 mm @ 18 mm

Canon 18-135mm STM @ 135 mm

The zoom range of this lens the is equal to a wide range of popular fixed focal lengths on a full frame camera: 28 mm, 35 mm, 50 mm, 85 mm, 135 mm and 200 mm. An impressive 7.5x zoom range offers you two totally different images from one position. This Canon 18-135 mm is often bought as vacation zoom: a single lens you'll use the entire vacation without changing lenses once.
Construction and autofocus
Thanks to the use of high quality plastics, this lens is very light. Even the filter mount is plastic. Yet this lens feels solid and has a metal mount. When your face is close to the camera and the zoom ring quickly moves up and down, you feel an airflow past your eyes. This means that this lens is sensitive to dust. This is common for many zoom lenses, but in this case we really noticed the air flow.
The Canon 650D AF and the new stepper motor in the 18-135mm STM are a very fast and very quiet combination. The phase detection by the sensor of the Canon 650D offers the fastest AF for video on a Canon SLR.It may take some time to get used to the manual focus. It is only possible when the camera is on, because it has an electronic control. Also you notice less resistance while manual focusing than you're used to. It is less pleasant than manual focusing the (older) Canon 15-85 mm or 17-55 mm Canon lenses.
Image Stabilization

The Canon EF-S 18-135mm STM has an intelligent optical Image Stabilizer, which according to Canon offers 4-stop advantage over lenses with the same focal length without IS. This is beneficial for shooting at slow shutter speeds where you do not have a tripod at your disposal. The Canon 18-135 mm lens STM detects when the photographer pans, and the IS system switches to the panning mode.
We tested the image stabilization at a 60 mm focal length. Even at a shutter speed of 1/6 second we made a picture that was as sharp as an image shot without image stabilization at a shutter speed of 1/50 second. This is actually a gain of 3 stops. If you accept a little loss of sharpness, it will in practice be possible to actually gain 4 stops thanks to the image stabilization. Impressive.
Vignetting
During our lens reviews, for jpg files we use all available in-camera lens correction capabilities. The Canon 650D provides automatic correction of chromatic aberration and vignetting ("Peripheral Illumination Correction"). The correction of vignetting by the Canon 650D is very effective and in jpg files there's no visible vignetting.
The uncorrected RAW files show a degree of vignetting which is not unusual for superzoom lenses. Depending on the focal length, from 0.6 to 1.5 stops vignetting at full aperture can be found. After stopping down 1 stop, all vignetting completely disappears.
Distortion
Also characteristic of super zoom lenses, is the high degree of distortion that varies from visible barrel at a focal length below 30 mm to slightly visible pin cushion (at focal lengths above 100mm). For RAW files in Photoshop and Lightroom correction profiles are available for the Canon 18-135 mm STM, so there is an easy and simple way to correct for distortion.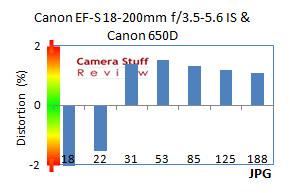 Bokeh Canon EF-S 18-135mm f/3.5-5.6 IS STM
The Canon EF-S 18-135mm f/3.5-5.6 IS STM has a circular aperture with an EMD (Electro Magnetic Diaphragm) that allows for a very precise control of the diaphragm. Compared to its predecessor, the number of diaphragm blades increased from six to seven, which might contribute to a slightly nicer bokeh. However, a light source in the background can show clear rings and the Out of Focus area (OOF) in the sample image of two birds shown below does not look real smooth. Many photographers will prefer a bright lens with a fixed focal length, if they really care about bokeh.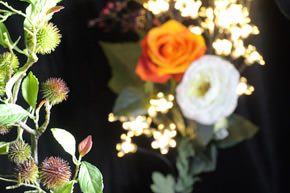 Flare Canon 18-135mm STM
For zoom lenses with a large zoom range, because of the complex design with a large number of lens elements, it is not unusual to encounter flare and ghosting. Nevertheless, the Canon 18-135 mm STM performed unexpectedly well. We didn't encounter any ghosting. When the sun shines right into the lens, a reduced contrast can be seen in a small area around the light source. This good performance will partly be due to the Super Spectra coating which is applied to each lens element.
Resolution
In this part, it delivers solid performance. Starting at full aperture, the sharpness pretty good. The highest acuity is reached after 1 or 2 stops aperture. Interestingly, the sharpness in the corners at most focal lengths little remains on the sharpness in the center. Only at the extreme focal lengths (18 mm and 135 mm), the corner sharpness at full aperture visible behind the center sharpness.
Chromatic aberration
The amount of lateral chromatic aberration in jpg files from the Canon 650D is, thanks to in-camera correction of lens errors, low at all focal lengths.
RAW files do show visible chromatic aberration in large prints, particularly at a focal length of less than 35 mm. These well known green and purple edges at sharp contrast transitions in the corners of the image are easy to correct in Photoshop or Lightroom, using the Canon 18-135 mm STM lens correction profiles.
Conclusion Canon 18-135mm STM review
Pros
Compact and lightweight
Large 18-135mm zoom range, suitable walkaround lens
Fast continuous phase detection AF video with Canon 650D
Insensitive for flare
Highly effective built-IS
Silent stepping motor ideal for video
Cons
High distortion
Visible chromatic aberration in RAW files
At the extreme focal lengths (18 and 135 mm), the corner sharpness lags behind the center sharpness
Optically, the Canon 18-135mm zoom lens STM is slightly better, but not much different than its predecessor. The main differences of this review compared to the Canon 18-135 mm review that we have previously published, is the improved performance for chromatic aberration and vignetting. And these improvements are caused by the in-camera lens corrections made by the Canon 650D.
The major advantages of this lens are great zoom range, which is combined with compact dimensions, light weight and fast, quiet autofocus. The Canon 18-135 mm STM is clearly designed with video in mind. The combination of the new phase AF detection of the Canon 650D with the stepper motor is a tremendous progress. The built-in image stabilization is very effective and switches on automatically when necessary during video, which will improve the quality of many amateur video recordings.