The Canon 18-55 mm might well be the standard kit-lens for Canon SLR cameras with APS-C sensor. This lens, which comes in various different versions, is not suitable for use with a full-frame sensor. Instead, Canon uses the smaller sensor to design compacter, and lighter EF-S lenses. The S in EF-S refers to 'short-back focus'; when a EF-S lens is used on a full-frame camera the mirror can damage the back of the lens.
We will test here the Canon EF-S 18-55mm IS II, introduced early 2001. There is also a Canon EF-S 18-55mm STM version, with a silent AF stepper motor. That one is more suitable for video-recordings. Before we publish a test on the Canon 18-55mm STM lens, we will first give the Canon 18-55mm IS II, in combination with the Canon 650D, a chance to show what it's worth.
Review Canon EF-S 18-55 mm IS II @ Canon 650D

Canon EF-S 18-55 mm IS II @ 55mm, f/11, 1000 ISO
The Canon 18-55mm IS II is a compact and light standard zoom lens, featuring a versatile 3x zoom range with an angle of view that is comparable to a full-frame camera with a 29-88mm lens. Add to this the build in image stabilization and you'll understand why many photographers bring this lens along/ on their trips. For close-up photography the shortest focusing distance over the whole zoom range is 25 cm.
Construction and autofocus
The lens is very light and feels a little bit cheap. Both the lens-body and the lens mount are made of plastic. The 18-55 II lacks a distance scale. While you focus, the filter doesn't rotate, therefore you can combine this lens well with a polarization-filter or a ND-filter. The zoom-ring is very broad. That makes handling comfortable. This lens doesn't seem to be designed to focus manually. To focus manually you have to use the narrow ring at the front of the lens; that doesn't handle easily. The rings to focus and to zoom turn very smoothly. It's a matter of preference, but personally I prefer a little more resistance. Joined with a Canon 650 D it focuses fast and in low-light condition this camera rarely hunts. A micro-motor drives the autofocus. That is a lot noisier than the USM or stepper-motor. If, for example, you are taking pictures during a wedding reception without any background-music, this could be annoying; a different (more expensive) lens would be a more obvious choice. Who uses this lens for video-recording the Canon 18-55mm II STM versus the Canon 18-55mm IS II will be a no-brainer; although the STM is 25% more expensive it is many times more silent as well. That you can't overrule the AF manually is another disadvantage of the micro-motor over the USM motor, that you'll find in many more expensive lenses; first you'll have to turn the switch on the lens to MF.
In-camera lens correction
All Canon cameras offer lens-aberration correction, as shown here in the adjoining image. I recommend to always have this option on, if you save jpg files on your camera during shooting. This test of the Canon 18-55-IS II was performed in conjunction with a Canon 650D, where the camera corrected the jpg files for light fall-off and chromatic aberration. When you compare the results of the unaltered files (RAW) to the corrected files (jpg) you will clearly see the positive influence of these corrections. If you save jpg files in your camera without using this correction you will see that the jpg scores equal the RAW scores.
Image stabilization
The relatively small largest aperture of this lens in very well compensated by the build-in image stabilization, at least as far as sharpness is concerned. You can safely use a much slower shutter speed in dim light thanks to this image stabilization. We measured the effectiveness of this build in image stabilization at a focal length of 55 mm. The IS is effective and compensates for almost 3 stops; an image shot without the use of a tripod and without image stabilization at 55 mm and 1/60 seconds, will be just as sharp as an image shot with a shutter speed of 1/8 seconds with the image stabilization.
Resolution Canon 18-55 mm IS II
Some experienced photographers look down at the quality of cheap zoom lenses. This is questionable though. One may wonder if that's right. The Canon 18-55mm IS II delivers sharp images at all focus lengths and all apertures. In the results you will see that the sharpness of the borders and corners of the image is less than in the center. As well, the image will be sharper with longer focal lengths than with shorter focal lengths when by a maximum aperture. In reality many photographers won't notice or care about this. Below you will see a partial enlargement of the border from a real image, with f/4.5 and f/8 and a focal length of 35mm. You can make out the difference and if this bothers you, you could opt for a more expensive lens. But in my opinion, it is completely out of proportion to look down at this. Where sharpness is concerned, this lens is definitely worth your money.
Vignetting
Canon has been successful in limiting the amount of light fall-off with this lens, despite its compactness. In most images you won't notice the light fall-off. But sometimes it will show on images of very uniformly colored objects, like a clear blue sky. To avoid any visible vignetting, you will have stop down two EV at 18mm. At the other focal lengths, 1 stop will be sufficient. If you turned on the lens-correction, you won't see any vignetting in the jpg files. That holds for all the focal lengths and apertures.
Distortion
When talking about distortion, the Canon 18-55mm IS II follows the typical course of a standard zoom lens. There is a clearly visible barrel distortion at short focal lengths and a small- invisible for the naked eye- pincushion distortion at the longest focal length. Below you will see an illustration of the distortion at different focal lengths.
Bokeh
Many photographers start with a kit lens like the Canon 18-55mm IS II. Who further wishes to develop his creativy, encounters the limits of what is possible with a kit lens like the Canon 18-55mm II. The lack of a very beautiful bokeh is an example.
For the most beautiful bokeh you'd better choose a large aperture (and a long focal length, like 100mm) and a large sensor (full frame). The Canon 18-55mm IS II does not meet any of those conditions. With an APS-C sensor, a maximum focal length of 55mm and a maximum aperture of f/5.6, this is not a typical bokeh lens. The background blur is not as nice woolly as in more expensive, fast lenses, but the bokeh is so quiet that the background does not distract attention from the subject. Perhaps this is due to the circular aperture of the Canon 18-55mm II, resulting in a uniform circular blur and bokeh highlights in the background.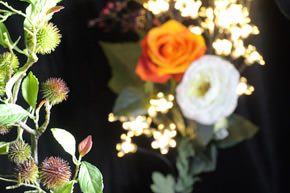 Flare Canon 18-55 mm IS II
Canon coats individual lens elements with Super Spectra coatings, in order to limit internal reflections on sensors or internal lens elements. It works effectively, but the effect is less spectacular than we've seen in reviews of the more expensive Canon lenses. In some situations, both a zone with reduced contrast due to flare and ghosting as shown in the image to the right will be visible in your images.
Chromatic aberration
Thanks to the in-camera correction of chromatic aberration by the Canon 650D, we find no chromatic aberration in any of the jpg files at any focal length. Even in jpg or RAW files without correction of chromatic aberration, images will rarely suffer from chromatic aberration. Below you see the worst case illustrated: a 100% crop of a sharp contrast transition in the extreme corners of the image. With more expensive lenses, chromatic aberration is often even lower, but I would not worry too much about this difference.
Conclusion Canon EF-S 18-55 mm IS II review
Pros
High image quality
High price / value
Light and compact
Built-in image stabilization


Cons
Noisy AF motor
Less suitable for manual focusing
Limited zoomrange and relatively small aperture
Feels plasticy
The Canon 18-55 mm IS II is a compact and lightweight zoom lens, offering a 3x zoom range that goes from wide angle to light telephoto. The built-in image stabilization allows you to shoot images in low light situations, without the usual blur due to movements by the photographer. In terms of image quality, the Canon 18-55m IS II offers a lot of value for money. The sharpness in the center is very high and the sharpness at the edges and in the corners is, when judged by the naked eye, neraly as good. Those who shoot in RAW, may encounter visible vignetting or chromatic aberration in the corners. There's nothing that can't be corrected in Lightroom, Photoshop or Canon's free Digital Photo Professional software. The lens aberration correction of the Canon 650D eliminates chromatic aberration and vignetting in jpg files effectively.
Despite the versatile focal length range of the Canon 18-55mm lens, I can imagine that there are many photographers who eventually choose a lens with a larger zoom range. Creative photographers who prefer a more woolly bokeh, or want to capture action in low light, are better off with another, more expensive lens. Personally I find the noisy AF motor the most disturbing about this lens. The price quality ratio is very nice. Even if you do not purchase the Canon 18-55mm II in combination with a Canon EOS camera.