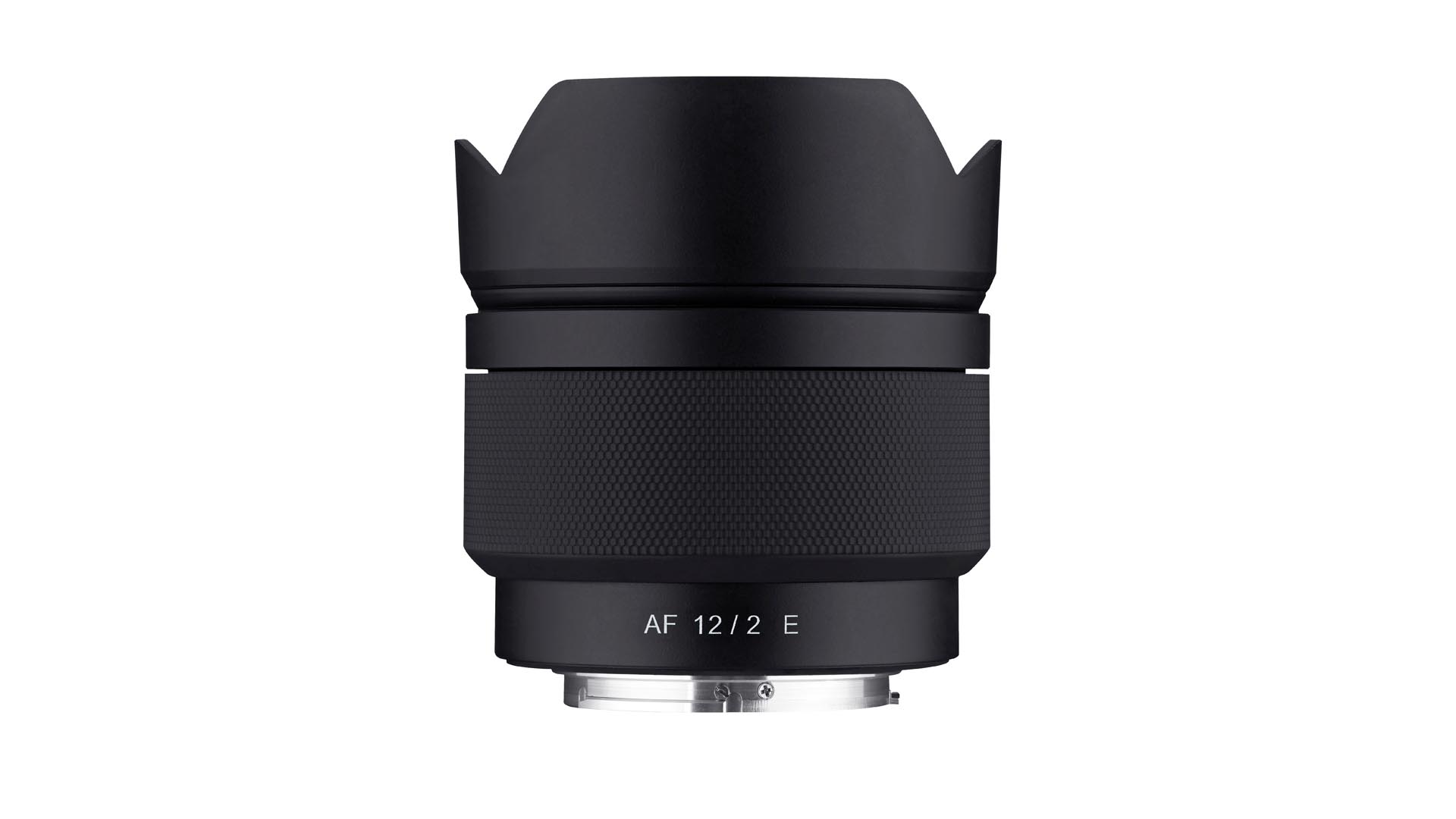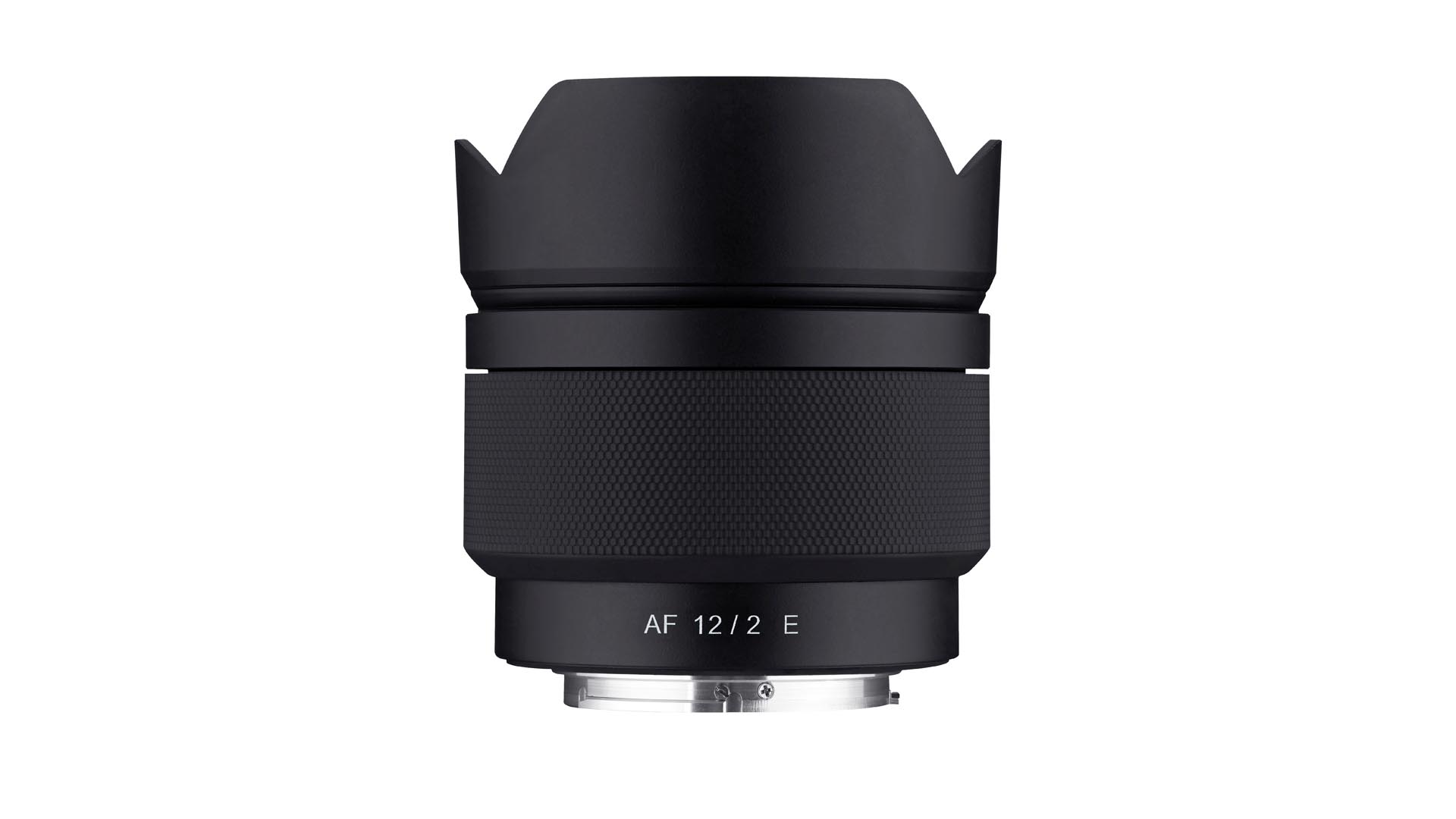 The Samyang AF 12mm F2 E is Samyang's first autofocus lens for APS-C. You can see this lens as the autofocus version of the Samyang 12mm F2.0 NCS CS. Optically, that lens didn't leave much to be desired, but the addition of autofocus makes this lens even more versatile.
Click on the lens for specifications, prices and test results.
TEST RESULTS Samyang AF 12mm F2 E:

PROS

CONS

APS-C wide angle with good brightness

Electronically coupled

Autofocus

Compact and light

Competitively priced

No image stabilization

No aperture ring

For the time being only for Sony E mount  
With autofocus, the Samyang AF 12mm F2 E is fully updated.
IntroductiON
Samyang introduces a new 12mm wide angle for Sony APS-C cameras. Samyang has had a 12mm F2.0 for APS-C cameras for years, the fully mechanical Samyang 12mm F2.0 NCS SC. That lens is optically good and two stops brighter than the Sony E 10-18mm F4 OSS. It's also significantly cheaper. No wonder that lens, which is also sold as Rokinon in non-European markets, is popular. The new Samyang AF 12mm F2 E retains all the good qualities of the old 12mm, but adds two more: autofocus and electronic coupling. This should allow the new 12mm to take full advantage of all the modern autofocus functions of Sony APS-C cameras such as face and Eye-AF and Real-time tracking.
HIGHLY VERSATILE
The lens has so far only been announced in a version for Sony cameras. An uncoupled mount is easily interchangeable, but that doesn't apply to the algorithms for the autofocus. The addition of autofocus makes this lens highly versatile. The mechanical version was already very good for landscape photography and astrophotography. The latter is due to the high brightness, which in astrophotography means the shutter speeds can remain short and the sensitivity of the camera low.
Of course, this remains the case in the Samyang AF 12mm F2 E. But thanks to the autofocus, you can now also use this lens very well for fast documentary photography and video. With this new lens and the arrival of the new Tamron 11-20mm F2.8 Di III-A RxD, Sony APS-C users can once again make a real wide-angle choice. The Tamron is one stop brighter than Sony's own 10-18mm F4, but about twice as expensive than the Samyang AF 12mm F2 E. In the extreme wide angle position, it has hardly less wide angle than the Tamron, is smaller and lighter and above all a stop brighter, although of course it does not have the flexibility of the zoom.
BUILD Samyang AF 12mm F2 E
The Samyang AF 12mm F2 E has a much more modern design than the older Samyang 12mm F2.0 NCS CS. It is the same length, but 2.5mm less thick and 32 grams lighter in Sony mount. Incidentally, this lower weight is not the result of the use of more plastic in the housing. Because it's still made of metal. The filter size has also shrunk a bit, from 67mm to 62mm. So it's more compact and lighter. The Samyang AF 12mm F2 E also has slightly fewer controls. It only has a wide focusing ring with a diamond-shaped pattern. A funny design element is the 'hidden' red ring around the lens. You can see it diagonally from the front, but not from the side. An aperture ring, which is present on its predecessor, is missing. This does not seem to be a problem because the aperture can be controlled by the camera thanks to the electronic coupling. However, the Sony APS-C cameras lack a front control dial that is usually used for this purpose. And an aperture ring on the lens could have accommodated that lack.
WEATHER RESISTANT
The optical design consists of 12 elements in 10 groups, with 1 hybrid aspheric, 1 aspherical and 3 ED elements. This appears to be the same structure as the mechanical 12mm F2.0, although Samyang claims it is a new design. What is certainly new is that the lens has three gaskets to keep moisture and dust out. For a purely mechanical lens that was not very important, but for a version with the necessary electronics and an AF motor that's very nice. The Samyang AF 12mm F2 E also has a protective glass at the rear. The Samyang AF 12mm F2 E  is equipped with a new UMC (Ultra Multi Coating) that replaces the SNC (Super Nano Coating) of its predecessor. The aperture has 7 blades, and the lens comes with a tulip-shaped, removable lens hood.
FOCUSING
For focusing, the Samyang AF 12mm F2 E uses a linear STM stepper motor. They are very quiet and generally quite fast. Especially on a wide-angle lens, which does not have to make such a big shot, we expect a fast autofocus. We're curious to see if this lens works well with Sony's most advanced AF features such as Real-time tracking.
Close up
The shortest setting distance of this lens is 19cm and the dimension that results is 0.09x. So don't expect macro shots with this lens, but for close-ups with a considerable background blur, it's enough.
IMAGE QUALITY Samyang AF 12mm F2 E
The MTF chart shows a good sharpness in the center, with – at full aperture – a decent gradient at the corners, especially for the fine details. Of course, this can be expected at full aperture for an extreme wide angle. What the MTF curve does not show and what we are of course very curious about is how fast and how much the corners tighten when we stop down one or more stops. As soon as we have a copy of the Samyang AF 12mm F2 E in our test lab, we will of course test it and publish a full review.
| | |
| --- | --- |
|   | Samyang AF 12mm F2 E |
|   | specifications |
|   |   |
| field of view (diag) | 99°1' |
| sensor format | APS-C |
| min. setting distance | 19 cm |
| filter diameter | 62mm |
| diaphragm blades | 7 |
| image stabilizer | no |
| dimensions (dxl) | 70×59 mm |
| weight | 213 gr |
| mount | Sony E |
| particulars | AF |
| importer | www.transcontinenta.nl |
| list price | € 399.99 |
|   |   |
| resolution/10 | – |
| contrast/10 | – |
| chromatic aberration/5 | – |
| distortion/5 | – |
| vignetting/5 | – |
| autofocus/5 | – |
| flare/5 | – |
| finish/10 | – |
|   |   |
| final score | – |

ConclusiON: REVIEW Samyang AF 12mm F2 E  oN Sony A6600
As soon as we have a Samyang AF 12mm F2 E in our test lab, we will publish a full review of this lens.

The Samyang AF 12mm F2 E will be available in the Benelux via the approved Samyang dealers in early/mid May. The recommended retail price is €399.99 including VAT.