The Nikon 70-200 f /2.8 VR II was introduced in June 2009 as a successor to the VR I. It is a completely new design, different in construction from its predecessor, with nano-coating and enhanced Vibration Reduction. It is a whopper of a lens and everything is at the service of excellent image quality; there is no compromise on size, weight or cost. The lens is suitable for both APS-C and full-frame sensors, but is designed for full-frame SLRs such as the D700, D800 and D3X. They have such huge pixel numbers that optical errors would immediately be noticeable. The largest aperture of f/2.8 is retained over the entire focal length range from 70 to 200 mm.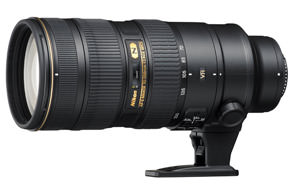 Nikon 70-200mm + Nikon 1.4 converter @ 6400 ISO, 280mm, 1/160, f/4
Fast telezoom lenses with built-in vibration reduction are ideal for low-light photography. Also with a 1.4x converter attached.
field of view @ 70mm Nikon 70-200mm 2.8 VR II

field of view @ 200 mm

Construction and autofocus
 The lens is extremely solid, and made mostly out of metal. The bayonet has a rubber seal against moisture. There are 21 lens elements in 16 groups, and a number of these lens elements are of ED-glass. This prevents Chromatic Aberration. The front lens is pretty close to the front of the lens, which has a rubber coating so you can put the lens upright. A large tulip shaped lens hood is included, which you can put on the lens upside down so you always have it with you. We did not find the fastening and unlocking very useful. Because of the shape of the hood, the camera does not stand firmly when you put it upright. Both the zooming and the focusing is entirely internal, the front lens does not rotate and the lens does not become shorter or longer either. This prevents the sucking in of dust. The high brightness naturally leads to a large diameter of the front lens; the filter size is 77 mm. A removable tripod mount is included.
It is a lens of the so-called G-type, so without the aperture ring. You set the aperture using the setting wheel on the body. The lens has a distance scale (the VR I did not have this). There is a switch for automatic or manual focusing. You can run "through the focus" with the automatic one. The rings are spacious with a nice, stiff rubber coating. Operating with gloves is not a problem. However, the stroke of the focus ring (just over 90 degrees) could have been somewhat bigger for us.
The lens has a built-in focus motor of the 'silent wave' type, which is virtually silent and very fast. When focusing, relatively heavy glass parts must be moved, and so the AF is not as fast as what you might be used to with lenses with a fixed focal length.
Image stabilization
 According to Nikon, the image stabilization should result in a difference of 4 stops. We tested the image stabilization at a focal length of 70 mm and realized a gain of 3 to 4 stops, depending on the shutter speed. This is very good. Please note that we have tested with the Nikon D800E, a body with such a huge resolution that motion blur is immediately noticeable. The VR has two positions; one for "normal" use and one to "pull along." You can also turn this off, which is recommended when you are working from a tripod or do not need it otherwise. With the VR "on," you have a somewhat restless viewfinder, and the hum might get on your nerves.
Vignetting
 The vignetting is improved compared to the VR I, but in RAW still well visible, especially at large openings and the longer focal lengths. In JPEG, the body corrects vignetting almost completely.
Distortion
 As with almost all zoom lenses, the distortion goes from light barrel-shaped at the wide angle to cushion-shaped at the telephoto range. We have found that the distortion at the telephoto modes in JPEG is somewhat greater than in RAW; we cannot imagine an explanation yet.
Bokeh
 The diaphragm has 9 blades. The opening is almost circular, which makes for a nice Bokeh.
Flare Nikon 70-200 mm VR II
 Ghosting is missing almost entirely. This is the advantage of having various nano-coatings (also on the back lens!). This lens is provided with an included lens hood by default, but you can leave it at home virtually unpunished, if you would like to do that.
 Resolution Nikon 70-200 mm VR II
The resolution of this lens is amazing. On a D800E (on which the performance of the lens comes out very well), we even scored over 3500 line pairs per picture height at maximum aperture at all focal lengths. You do not come across this often. The corners remain behind a bit at f/2.8 (well – 1500 LP/PH is still a very good result) but already after stopping down 2 stops, you get above 4000 LP/PH. This lens draws sharper than many professional fixed focus lenses!
Chromatic aberration
A couple of lens elements are of ED glass. This prevents Chromatic Aberration. Chromatic aberration is virtually absent at this lens, which applies to all focal lengths and stopping down.s.
Conclusion Review AF-S Nikkor 70-200 mm 2.8G ED VRII
Pros
Excellent image quality
Effective image stabilization
Ruggedly built
Fast and accurate autofocus
Internal zoom and autofocus
Cons
Large and heavy
Pricy
Distortion at 70 mm and 200 mm
This is an expensive lens from which you might expect something. However, we can be very short about the qualities: this is an absolute winner. It is a mechanically very solid lens, meeting the highest optical standards at all focal lengths and apertures, with good autofocus and ditto vibration reduction.