The Canon EF 70-200 mm f/4L IS II USM is the successor to the famous EF 70-200 mm f/4L IS USM. That lens was one of the sharpest telephoto zooms you could get. Add that to the compact dimensions, a reasonably low weight and good image stabilization, and you have a zoom lens that could hardly be improved. Yet Canon did just that with this second generation. The new EF 70-200 mm f/4L IS II USM is even sharper, better sealed and better stabilized. The price only increased a little, and the dimensions and weight have remained almost the same. Hats off.
​Click on the product for specifications, prices and test results.
Fantastic short telephoto zoom: Canon EF 70-200mm f/4L IS II USM
Canon EF 70-200mm f/4L IS II USM is an almost ideal telephoto lens. It's compact and, at 780 grams, not too heavy. The brightness of f/4 remains nicely even over the entire range. And the range is good for both portraits and real telephoto images with a nicely compressed depiction. The somewhat modest brightness and the not-too excessive range make the design of a lens like this perhaps easier than an f/2.8 version or a 70-300 mm. You can see that in optical performance. The predecessor of this lens was already one of the sharpest telephoto zoom lenses, and the new version goes (a bit) further. Don't expect any huge differences. The first generation was simply too good for that. But that first version was designed when Canon only made cameras with fewer than 24 megapixels. Now there are several models with 30- and 50-megapixel sensors, and it's time for a successor. Along with a new optical design, Canon has improved image stabilization and lens sealing. For a little extra range, you can also combine this lens with Canon's latest 1.4x and 2x teleconverters. Every teleconverter causes some loss of quality because lens errors are literally enlarged. But if you combine them with a lens that is as good as this one, the image quality will be fine, even with converters. If you want to save some money, the first generation will still be a good choice. But if you want to be ready for the future, then choose this one.
BUILD AND FUNCTIONs
The Canon EF 70-200 mm f/4L IS II USM has been updated in many ways. Including all the changes like whiter paint and different texts, it's a long list. The most important changes are the optical design, although the new lens has as many elements in as many groups as the old one. The shortest setting distance has gone from 1.2 to a slightly more useful 1.0 meter. The maximum magnification has also increased from 0.21x to 0.27x. Certainly no macro-performance, but for portrait photography, it's very welcome. The new lens is a fraction bigger and heavier than the old one, and the filter size has also increased slightly, from 67mm to 72mm. The front lens now has a fluorine coating, so it is easier to clean, and dirt and moisture don't stick as well. According to Canon, the lens also has better seals, so moisture and dust can penetrate less easily. And the number of aperture blades has gone from 8 to 9, which at least in theory means a slightly rounder aperture and thus a slightly nicer bokeh.
The lens feels extremely solid, just like its predecessor. Canon doesn't just stick an 'L' in the name of its lenses without reason. Like its predecessor, this lens has four switches, which are also between the zoom ring and the focus ring. The top one is for limiting the focus range, below that is a switch for switching from AF to MF, below that, the On/Off switch for the image stabilization, and below that, a switch for the image stabilization mode. It has a window that indicates the set distance and, as with all USM lenses, you can always adjust the focus manually. The latter has received an extra value. The lens still comes without the optionally available tripod collar. For a lens of less than 800 grams, that's not really necessary. 
IMAGE STABILIZATION
One of the points that is supposed to be improved is the image stabilization. Canon claims a profit of 5 stops for the new model, and, given the results from our test, that does not seem like an exaggerated statement. Without stabilization, the results are unusable at 1/30th of a second. With stabilization, we were still at almost the same sharpness at 1/4th of a second as at 1/60th without stabilization. That is excellent. The new version also has an extra setting for image stabilization. In addition to a regular, good-for-everything mode 1, there is also mode 2 for panning or making photos in which you move along with the subject. As soon as the camera detects this, the stabilization will only work in 1 direction, transversely to the direction in which you are moving. Mode 3 is really new. In this mode, you can move the camera in all directions to follow subjects without the stabilization trying to prevent these (large) camera movements. The image stabilization also works remarkably quietly. Where you heard the stabilization of the old one go "on," the image stabilization of the new 70-200 mm works immediately and inaudibly.
VIGNETTING, FLARE AND DISTORTION
The Canon EF 70-200 mm f/4L IS II USM is a high-quality zoom. But it is still a zoom and not a fixed-focus lens. You can see that, among other things, in the distortion, which is about 1.5% pincushion-shaped at the longer focal points, which is higher than you would actually like. That's not a problem for nature shots, but you see it very clearly in architecture. If you use this lens on a camera with an optical viewfinder, you clearly see buildings pinching inwards. This is not corrected in the camera. In the post-processing, it is of course only a push of a button with the right lens profile to get rid of it, but keep in mind that you will lose some of the image.
The Canon EF 70-200 mm f/4L IS II USM has some visible vignetting at full aperture, especially when you zoom out. The lens reaches a maximum value of 1.6 EV at 200mm on f/4. This can be corrected in the camera, so you hardly see it in the jpegs. And if you are making portraits, then a little vignetting is even an advantage. All in all, a great result.
What the Canon EF 70-200 mm f/4L IS II USM can sometimes struggle with a bit is backlighting. Despite the latest Super Spectra Coatings, it can sometimes suffer from flare and loss of contrast, especially at the longest zoom position and at full aperture. You see it immediately when it happens, and you can easily avoid it by adjusting the composition. But if the lens has a minus point, that's it.
IMAGE QUALITY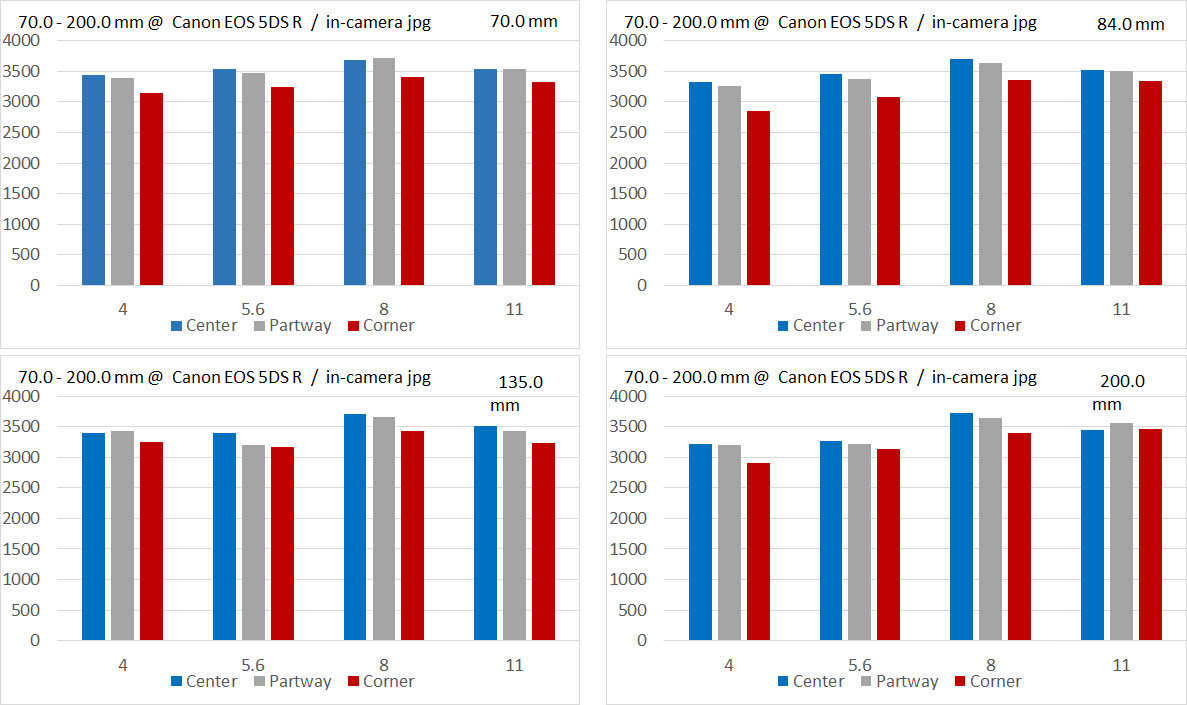 The test results of the new Canon EF 70-200 mm f/4L IS II USM cannot be faulted. This lens is sharp from corner to corner at virtually all focal lengths and all apertures. Only at 200mm do you see a small difference between the f/4 and the other apertures. The uncorrected RAW files also show a small gradient to the corners, but once you apply the corrections (especially those for the vignetting), it looks really beautiful. Stopping down to f/8 causes a small increase in sharpness, but the difference is actually not visible in practice. The absence of chromatic aberration also contributes to impression of high sharpness. 
ConclusiON Review Canon EF 70-200mm f/4L IS II USM @ 5DsR
PROS
Fantastic image quality
Solidly built
Weather resistant
Suitable for teleconverters
Good image stabilization
CONS
Bokeh (of course) not as nice as with an f/2.8
Distortion at longer focal lengths somewhat high
Sensitive to backlighting
The lens breathes professional quality in every respect.
The Canon EF 70-200 mm f / 4L IS II USM is a very good telephoto lens and a first choice if you don't want the weight or price of the f/2.8 version. The lens breathes professional quality in every respect. It is solidly built and resistant to wind and weather. It also surpasses optically the image quality of the original 70-200 mm f/4 IS USM. The difference is not very big, but in view of the quality of the first version, that's a huge achievement in itself. This increase will mainly be seen on cameras with high resolution, such as the EOS 5DSr that we used for this test. With the Canon EF 70-200 mm f/4L IS II USM, you're ready for a future in "high res."