The Nikon Z 24-50 mm F4-6.3 is a compact standard zoom that was introduced at the same time as the Nikon Z5. The 24-50mm is retractable, so you can easily take your camera and lens with you. Thanks to the range of 24mm wide-angle to 50mm standard, the lens is quite versatile, although it is not very bright.
Click on the lens for specifications, prices and test results.
TEST RESULTS Nikon Z 24-50mm F4-6.3:

PROS

CONS

Very compact in retracted position

Good sharpness

Little chromatic aberration

Light

Starts at 24mm

Multi-control ring

Only 50mm in "telephoto" position

Not bright

Quite a bit of vignetting

Plastic mount
With the Nikon Z 24-50 mm F4-6.3, a full-frame Nikon Z is almost as easy to carry around as an APS-C model.
For the SLR cameras from Nikon, Nikon has already made zooms with a range of 24-50 mm. Nevertheless, the Nikon Z 24-50 mm F4-6.3 remains a unique standard zoom. To start with, the range from 24mm to 50mm is not very common. A 28-70mm is more common. The range of the Nikon is not a bad choice, because you can benefit from 4mm extra wide angle for landscape photography, architecture and interiors. The bit of range you miss on the long side, on the other hand, can often be solved with some cropping.
The Z 24-50mm F4-6.3 also fits a trend of modern full-frame standard zooms that are extra compact and have different ranges. For example, Panasonic has the Lumix S 20-60mm F3.5-5.6 which is slightly larger than this Nikon, but not very much, and has more range on both sides. Sony has released a retractable Sony FE 28-60mm F4-5.6 that is slightly smaller and lighter. The Sony offers less on the wide-angle side, but is slightly brighter and longer on the telephoto side. A comparison with the old AF-D version shows how small and light the Nikon is. It weighed 355 grams, had a filter size of 62 mm and was 7.5 cm long.
BUILD 
The most striking feature of the Nikon Z 24-50 mm F4-6.3 is of course that it is a retractable lens. However, this is no longer that special for Nikon, because the very first 24-70 mm for the Z system was as well. But that 24-70 mm was not as small as this 24-50 mm. When extended, it gets about 2 centimeters longer. The lens is also quite light, of course also thanks to the use of a lot of high-quality plastic in the construction. Even the mount is made of plastic. The Nikon Z 24-50 mm F4-6.3 has no built-in image stabilization, but with the relatively short focal lengths of this lens, the image stabilization of the Nikon Z cameras will have no difficulty. It just means it's less ideal as a standard lens on the Nikon Z50, with an APS-C sensor. On that camera, the Nikon Z 24-50 mm F4-6.3 works like a 36-75 mm.
The Nikon has an aperture that consists of seven blades and an optical design that consists of 11 elements in 10 groups. Two of those elements are made of ED glass, and three elements are aspherical. The lens has two rings. The front one is the widest and is for zooming. The ring has markings for the zoom position at 24, 28, 35, 40 and 50mm. The rear, narrower ring, can be used for focusing. It can also be programmed to be used to control the aperture, adjust the ISO value or set an exposure correction.
https://web.archive.org/web/20230609231257/https://www.youtube.com/watch?v=7NpCIq4Vzso
FOCUS
The Nikon Z 24-50mm F4-6.3 has a quiet and fast stepper motor for focusing. The focus is completely internal. The lens therefore does not get longer during focusing. The Nikon Z 24-50 mm F4-6.3 focuses quickly and accurately in practice. The shortest setting distance is 35 cm over the entire range. This ensures a maximum magnification scale of 0.17x. This lens is therefore not so suitable for macros.
IMAGE QUALITY
The image quality of the Nikon Z 24-50 mm F4-6.3 is good, especially for a pancake kit lens. In the extreme wide-angle position, at 24 mm, the sharpness in the center at full aperture is considerable, but not yet optimal. After stopping down, you see a considerable improvement. In order to get the corners right, you actually need to stop down further, until F8. At the other focal points, you will see more or less the same image, but everything will shift approximately one stop. At full aperture, usable sharpness, and really good sharpness after stopping down. At 50mm, this means that for the best quality in the center, you have to go to F8 and to F11 to get the corners right. These seem to be high values, but of course it has everything to do with the not so high initial brightness of this lens. The distribution of the sharpness over the image field is fairly even, although the center always remains slightly better than the corners at all apertures.
The Nikon Z 24-50 mm F4-6.3 has few problems with chromatic aberrations. That is also one of the reasons why the shots with this lens look good.
If you aim the lens towards the sun, you can get some trouble with reflections, but it is not too much. After stopping down a bit, you can get reasonably well-defined sun stars at F16. However, the dots are not nicely pointed, but run quite wide.
In terms of sharpness and aberrations, the Nikon scores quite well. The compact dimensions of the Nikon Z 24-50 mm F4-6.3 show in the vignetting, which is hefty at 24 mm. Even automatic corrections cannot completely suppress vignetting. It decreases when you stop down or zoom in, but it doesn't go away entirely. It does give a nice vignette to your photos, but that won't be desired in every situation. Another downside is that there is also some distortion at the extreme wide-angle position, but only with very critical subjects.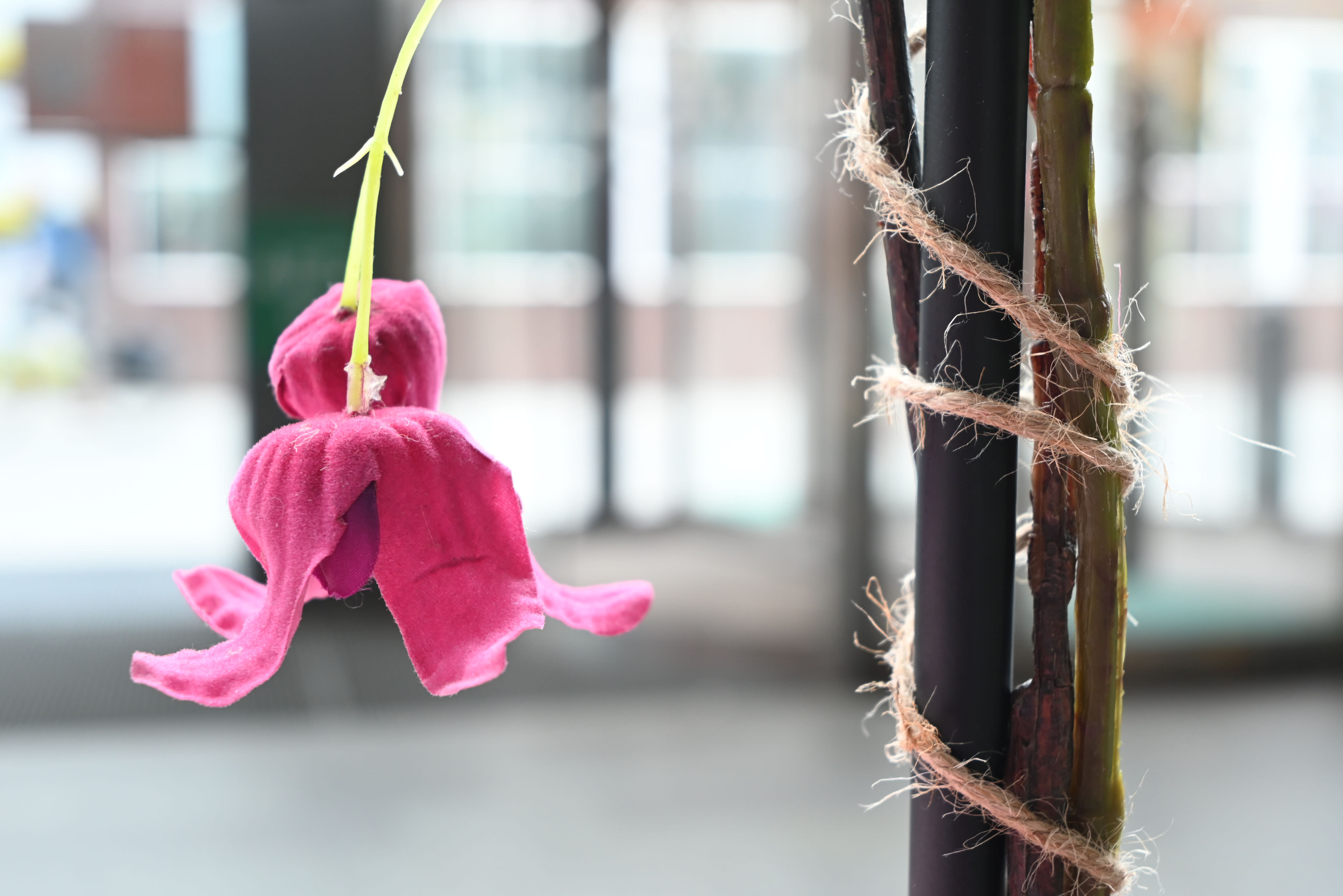 The Nikon Z 24-50 mm F4-6.3 has relatively short focal lengths and low brightness. So you don't get a lot of blur in the background with it. But what bokeh can be found is pretty reasonable, despite the fact that this lens only has 7 aperture blades. Of course, the Nikon is not a real portrait lens, with F6.3 at 50mm. The Nikon Z 24-50 mm F4-6.3 offers insufficient depth of field and separation for that. 
| | |
| --- | --- |
|   | Nikon Z 24-50mm F4-6.3 |
|   | specifications |
|   |   |
| field of view (diag) | 84°-47° |
| sensor format | full frame |
| min. setting distance | 35 cm |
| filter diameter | 52mm |
| diaphragm blades | 7 |
| image stabilizer | none |
| dimensions (dxl) | 73.5×51 mm |
| weight | 195 gr |
| mount | Nikon Z |
| particulars | retractable |
| importer | ww.nikon.nl/be |
| list price | € 479.00 |
|   |   |
| resolution | 7.5 |
| contrast | 8 |
| chromatic aberration | 8 |
| distortion | 7 |
| vignetting | 6.5 |
| autofocus | 8 |
| flare | 8 |
| finish | 7 |
|   |   |
| final score | 7.5 |
ConclusiON: REVIEW Nikon Z 24-50mm F4-6.3 oN camera Nikon Z5
The Nikon 24-50mm F4-6.3 is a fine, small wide-angle/standard zoom for vacations.

The Nikon Z 24-50mm F4-6.3 is a great kit lens for the Nikon Z cameras. The small dimensions and low weight will make it easier to carry a Z5 or Z6. With this lens, you can easily throw the camera into a small bag, and it's always ready to use then. This is the lens that you want as a Nikon photographer if you don't want to carry around more equipment than strictly necessary. For example, on vacation. It is useful for many kinds of photography, from landscapes to street and documentary photography. The image quality does not disappoint. Apart from the somewhat low brightness, nothing stands in the way of taking good photos with this lens.