With the introduction of a Fisheye and the Olympus 7-14mm f/2.8 PRO ultra-wide angle zoom (with a full 11 seals against dust and splashwater and guaranteed to work in freezing cold), the M.ZUIKO PRO family has grown into five high-quality, weather-resistant PRO lenses for the semi-professional and professional photographer. Olympus PRO f/2.8 lenses now have a field of view that corresponds with 14 mm wide-angle for 300 mm telephoto lenses on a camera with a full-frame sensor. With help from a dedicated 1.4x converter for the Olympus M.ZUIKO DIGITAL ED 40-150mm 1:2.8 PRO zoom, that significant range is even further expandable to 400mm. And for those for whom that is still not enough, a 300 mm f/4 will probably be released at the end of this year (in terms of field of view, equivalent to a 600mm telephoto on a camera with a full-frame sensor), which can also be combined with the 1.4x converter.
What image quality does this new wide-angle zoom have in store?
Olympus M.ZUIKO DIGITAL ED 7-14mm 1:2.8 PRO

Price Olympus 7-14mm f/2.8: 1299 euros
The Olympus M.ZUIKO DIGITAL ED 7-14mm 1:2.8 PRO at its introduction has a list price of € 1299. I find that surprisingly low. It is still a lot of money, but the target audience for this kind of high-quality lens is accustomed to paying more for high-quality equipment. I do not look so much at the amount itself, but the amount in comparison with the list price of similar lenses. The Panasonic 7-14mm f/4, for example, had a list price of € 1199 at its introduction. The Panasonic 7-14mm has currently dropped to just above € 1000. If you consider that the Olympus 7-14mm f/2.8 is more sturdily built, brighter and water-, dust- and freeze-resistant as well, then that price difference is very small.
A 2x zoom range might not seem like much, but for a wide-angle zoom, a few mm makes a world of difference.
Build and auto focus
The Olympus 7-14mm f/2.8 PRO weighs 534 gram. That is about half of what a bright wide-angle zoom for a full-frame sensor camera weighs. The dimensions of this Olympus wide-angle zoom are also very modest in comparison with the big boys of lenses. Compared with the Panasonic 7-14mm f/4 (see the picture below), the Olympus is larger and 2 ounces heavier, which is not unexpected given the higher brightness.
Manual focusing (in particular) and zooming (to a lesser degree) goes more smoothly with the Olympus than with the Panasonic, thanks to the somewhat more generous dimensions. Both lenses use a Fly-by-Wire focusing mechanism without a hard stop at the shortest and longest focal distance. But Olympus—just like Tokina—has a sliding ring with which you can switch the camera to manual focusing at any given moment. If you make use of this option, then you do have a hard stop at the ends of the focus range. That works much better. The shortest focal distance is just 7.5 cm, which is about 20% less than that of competitor lenses. AF is blazing fast and very accurate (repeatability 1,2%!).
As we are accustomed to from the Olympus PRO lenses, the turning of the zoom ring and the focus ring is perfectly padded. A special Fn button on the side of the lens gives you control over an extra function, which you set in advance on the camera.
Both the Olympus 7-14 mm f/2.8 PRO and the Panasonic 7-14 mm f/4 have a built-in, flower-shaped sun cap, which also serves as protection for the convex front lens because there are no threads on these lenses with which you could screw on a filter to protect the lens.
Vignetting
At all focal distances, vignetting can be visible at f/2.8, for example if you photograph an evenly blue sky. But after stopping down 1 stop, that is completely gone. Only at 7mm, stopping down 2 stops offers an absolute guarantee that you will not see any vignetting. This enormously good performance for a bright wide-angle zoom is not only thanks to correction of RAW files by Photoshop/Lightroom or in-camera correction of jpg files. Even if you open RAW files with a RAW converter that does not apply any corrections, there is still remarkably little vignetting at f/4 or smaller. On this point, the designers have put on a top performance.

Olympus 7-14mm f/2.78 @ 7mm, f/2.8 (Click on the illustration for the complete jpg file.)
Even at full aperture, the focal depth is enormous at 7mm on a micro-43 camera.

Distortion 
Olympus 7-14mm f/2.8
In Lightroom, in Photoshop and with in-camera jpg files, all distortion is corrected without you having any influence over it. Move your mouse over the illustration below for the difference between an ORF file opened in Lightroom or Photoshop and a RAW converter that does not apply any corrections. It would not surprise me if all camera brands do this within a few years. The correction is done very well, so that you do not have trouble with distortion at any focal distance.
Flare
Next to the fact that all PRO lenses are completely weather resistant, they are also equipped with a ZERO (Zuiko Extra-low Reflection Optical) coating. This coating provides high transmission, minimizes flare, and offers extra protection for the front and rear lens elements. When testing lenses, we deliberately try to cause flare and ghosts. We did manage to do that here, but it did take more effort than with most other wide-angle lenses. For a wide-angle zoom lens, the Olympus 7-14 mm f/2.8 puts on a remarkably good performance on this point.
Sharpness: razor sharp, from corner to corner?
The MTF50 is tested by setting the image ratio of the test camera to 2:3, so that the measurement results are directly comparable with the measurement results of lenses on a camera with an APS-C or full-frame sensor. If you use the camera in the standard ratio of 4:3, then the number of lines per image height is higher. At full aperture, the images are remarkably sharp, even in the corners. At f/4 (center) and f/5.6 (corners), the highest sharpness is reached. If you compare the Panasonic 7-14 mm f/4 with the Olympus 7-14 mm f/2.8 at full aperture, then the Panasonic scores a bit higher. If you set both lenses to f/4, then the roles are reversed.
At very short distances (less than 1 meter), the corners of shots made at 7mm are less sharp than for pictures take from a distance of more than 1 meter. This can be the explanation for a number of test reports that have appeared for the Olympus 7-14mm in which the sharpness in the corners is lower at 7mm. The practice shots at all focal distances are remarkably sharp in the corners.
Battle of titans between two midgets: Both the Panasonic 7-14mm f/4 and the Olympus 7-14 mm f/2.8 combine compactness with an enormous field of view and impressive image quality. We previously compared the two lenses with each other in practice and in many cases could not see any clear differences in sharpness in the practice shots even with direct comparisons. In some practice shots, the Olympus beat Panasonic, as in the shot shown here, in which the Olympus is sharper at 7mm f/4 than the Panasonic is.
Chromatic aberration
In Lightroom, in Photoshop and for in-camera jpg files, all chromatic aberration is automatically corrected without you as a photographer having any influence over it. That is something to cheer about in my opinion, and there are ever-more brands that follow this example. But as a tester, you want to know whether the absence of chromatic aberration is the result of a good lens design or good correction. With the Olympus 7-14mm f/2.8, it is the former. In the corners of an image that we opened with a third-party RAW converter (which did not apply any correction of chromatic aberration), there is no chromatic aberration visible. The partial excerpt below is from a shot made at 10mm f/2.8. On this point, the design of the Olympus is better than that of the Panasonic, which can be clearly seen in the RAW scores for chromatic aberration (without corrections). In jpg files (where the camera corrects for CA), the difference is smaller.
Bokeh Olympus 7-14mm f/2.8 PRO

With this lens, you take pictures that are sharp from half a meter to infinity.
The extra brightness of the Olympus 7-14mm f/2.8 pays off—in comparison with the Panasonic 7-14mm f/4—in a more beautiful bokeh. A circular aperture with 7 lamellae on the Olympus 7-14mm provides a natural blurring of the background, but as with all wide-angle lenses, you will usually not notice much of this, since extreme wide-angle lenses excel in offering enormous focal depth.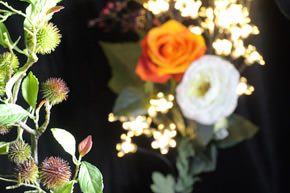 Conclusion Olympus 7-14mm f/2.8 PRO review with OM-D E-M1

Pros
Fantastic build quality and dust-, splashwater- and freeze-resistant
Great image quality: Sharp wide-angle without distortion
High brightness: ideal for professionals and semi-professionals
Compact and light in comparison with wide-angle zooms for APS-C or full-frame
Cons
Actually none;
Bigger and heavier than the Olympus 12mm f/2 or the Panasonic 7-14mm f/4
With the fantastic Panasonic 7-14mm f/4, the bar is set high. With the 7-14mm f/2.8 PRO, Olympus pushed it even higher.
Analogous to a 14-24mm zoom vs. a bright 24mm fixed focal length for a camera with a full-format sensor, the Olympus 12mm f/2 is noticeably smaller than the Olympus 7-14 mm f/2.8. The Panasonic 7-14mm f/4 is also more compact and lighter. I can imagine that there are amateur photographers who will prefer these good, less expensive, lighter and more compact—but not weather-resistant—lenses. For the semi-professional and professional, that is almost certainly otherwise.
If you compare the shots made with the Olympus 7-14mm @ f/4 directly with those from the Panasonic 7-14mm @ f/4, then the Olympus wins this battle of titans.
I expect that there will be few professional photographers who do not get greedy if they get their hands on a set of 7-14, 12-40 and 40-150mm f/2.8 lenses from Olympus. The build quality and finish of these robust, bright lenses is flawless. They are designed to be used without problems in extreme cold or in damp, dusty environments. Even so, these lenses are small and compact in comparison with a 14-28, 24-70 and 70-200mm f/2.8 set of lenses with the same field of view and brightness for an SLR camera.
The image quality of all three of the f/2.8 Olympus PRO lens is also fantastic. Distortion, vignetting, chromatic aberration or sharpness in the corners—you name it, it's all good. Combine the bright Olympus PRO lenses with the extremely efficient built-in image stabilization of an Olympus camera and you can even shoot by hand with low ISO values in low light. You end up with a signal-to-noise ratio and dynamic range that are comparable with those of a camera with a full-frame sensor under similar conditions. The Olympus 7-14 mm f/2.8 PRO is a plus for every photographer with a wide view, who does not want to make any quality concessions for making (urban) landscape pictures, panoramas, group photos, or interior shots.