The Panasonic Lumix DMC-LX15 is Panasonic's itty-bitty powerhouse in pocket cameras intended for amateur/starter photographers who place an emphasis on being able to get great pics with lots of creative options: 1-inch, 20-megapixel sensor, f/1.4-2.8 Leica Vario-Summilux zoom lens with 3x optical zoom (marked on the camera as 24-72mm, the approximate 35mm-equivalent in 4:3 mode. The zoom range amounts in terms of field of view "what you see in the picture" to 36-108mm in 35mm-equivalent when filming in 4K. Next to an optical zoom, the camera has a 6x "Intelligent" zoom, 5-axis image stabilization, 4K Video (with zoom), and 4K Photo including post-focus and focus stacking. The itty bitty part? 310 g (11 ounces, including battery and memory card), 105.5mm by 60mm by 42 mm (4.15" by 2.36" by 1.65").
CameraStuffReview is primarily focused on system cameras and interchangeable lenses, but the top question from readers is some version of, "What is the one lens you recommend as a lens I can just leave on the camera and use for everything." For readers wondering about that, a better choice might be a fixed-lens camera that best suits their shooting style. There are two types that we think are interesting:
Luxury compact cameras, which fit in a pocket and yet offer lots of options and high image quality
Bridge cameras, which look like an SLR with a standard zoom, but instead have a fixed zoom with a colossal zoom range. A bridge camera is about the size and weight of an SLR camera with a standard zoom. Why would you buy a bridge camera? Make no mistake. If you compare a bridge camera with an SLR camera with a set of lenses that cover the same zoom range (24 to 600mm) as a bridge camera, then a bridge camera is very small and compact compared with an SLR. But not even remotely as compact as the Panasonic LX15.
So many new cameras and lenses are coming out that we will never succeed in reviewing all system cameras with their lenses. Unfortunately, we cannot test everything. Even so, we could not skip a review of the LX15 (as a representative of the luxury compact cameras) and the Panasonic FZ2000 (as a representative of the bridge cameras).
Panasonic lx15 vs panasonic lx10
Whatever happened to the LX-10 that I saw online? Is this another new camera already? It's the same camera, sold in different markets. If you're ordering accessories online, don't be afraid to look at the LX-10 items. Protective touchscreen foil, for example, is easier to find for the LX-10 (even in the area of the LX-15 market) than foil marketed for the LX-15.
Quick start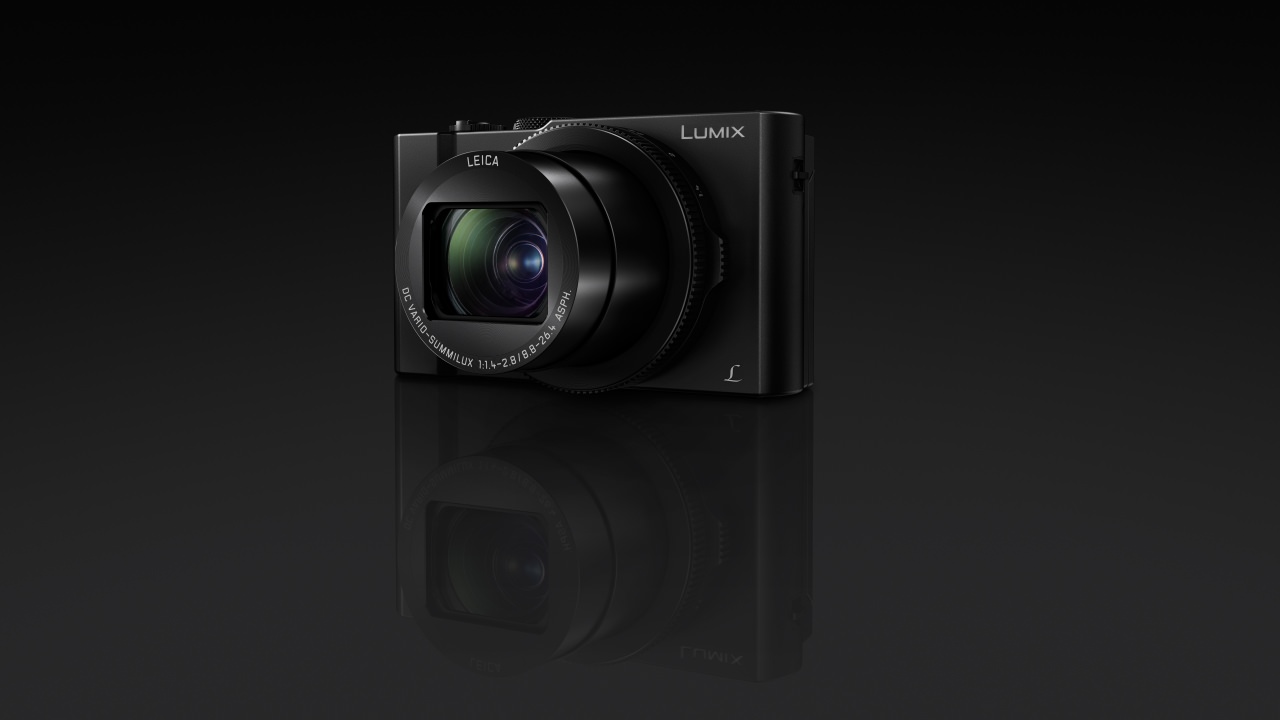 panasonic lx15 fits in a pocket that it's a pain to get my passport into
This is a camera made to stuff in your pocket and take along with you for quick snaps. And as a casual/starting photographer, it's hard to know what you don't know. The odds of actually reading the entire manual before heading out are slim to none. So what do we do? We look at the quick-start sheet. Panasonic's choice of the first thing to put on the quick start sheet are the "Quick Guide for 4K Photos" and "Changing the focus after shooting". It's like they know me.
The 4K feature offers 3 basic modes, selectable with a handy 4K button on the back of the camera.
4K Burst: "For the best picture of a fast-moving subject" Push the release button halfway (to focus) and then fully, holding the button down as long as you want to keep shooting. This mode takes a series of photos from the time you tell it to start until you tell it to stop.
4K Burst S/S: "For capturing unexpected photo moments" Push the release button fully, and the camera starts recording. Push again to stop.
4K Pre-burst: "For catching the right moment when a photo moment presents itself" Press the release button fully, just once, and the camera records a series of frames covering 1 second before you pressed the button to 1 second afterwards.
In all of these modes, the camera immediately offers you the series of photos so that you can save any individual frames that catch your fancy on the spot. You have to press the back button before you can resume taking pictures. It also, in all these modes, saves the whole series in video format. You can open the series later in the camera to save individual frames, or open the video format in Photoshop, Lightroom, or SilkyPix (not included on disk, but downloadable) to grab and save the individual frames that you like (in 4K). In terms of capturing the right moment when the dog was looking particularly cute and was actually in frame, I liked the first two modes about the same. The Pre-burst mode, I think, is for very specific situations, like maybe when you want to catch the precise moment the dog catches a Frisbee (or a heron tossing a fish into the air or a kingfisher leaving its nest, like we show with the Panasonic GX80).
All of these modes delivered frames that were just right in terms of getting the dog to look cute, capturing action, catching the moment the camera-shy animal actually looks at the camera, etc. Case in point: With the 4K Burst S/S mode, I got all these in a single "shot":
Panasonic Lumix DMC-LX15 @ f/7.1, 640, ISO1600
When my normal picture of the dog in motion usually looks more like this:

Panasonic Lumix DMC-LX15 @ f/7.1, 640, ISO1600
The other part of the Quick Start manual is moving the focus point, using Post-Focus or Focus Stacking. These two functions actually do quite different things, but both benefit from 4K Photo. With these functions, cameras from Panasonic are unique.
Focus Stacking is a method of combining shots into a new photo with increased focal depth. That is handy when you want more focal depth than is possible in practice, such as macro and close-ups, or night shots at f/1.4. Little focal depth with a bright lens is very deliberately chosen, to let the subject stand out more. There are other brands that have focus stacking as a function in the camera (or with an app), but there are few brands with which these shots can be put together in the camera in such a user-friendly way. Doing it afterwards with software like Photoshop is also an option, of course.
Post-Focus is a whole different beast. Do you ever sit awake on insomnia nights going over old conversations and thinking about what you should have said? Post-focus is the camera equivalent of being able to jump back in time and do it differently. Only, not at will. And not without preparation. When you set the camera to 4K post focus, the camera analyses the picture first to determine how far away the closest subject is, and how far away the furthest subject is. Then the LX15 takes a series of photos that are focused from the frontmost subject in steps to the back-most subject. This means it's important to set the camera on a table, to use a pole or to use a tripod, so that the camera does not move while the series of pictures is taken. After this simple preparation, you can always choose to travel back in time!
Build and design
This little camera feels solid and classy. Like most modern compact cameras, there is no lens cap to worry about, but an automatic lens cap that opens when the camera is turned on and the lens extends. The only thing that makes me nervous about the build of this camera is the port door over the HDMI and USB outlets. It feels less solid than the rest of the camera.
There is a pop-up flash, but no hotshoe and no viewfinder. There is a big (3"), clear (1040k-dot), touchscreen with "AF" coating (anti-fingerprint?) that flips up 180 degrees (yayy, selfies) but does not rotate, making it great for shooting low to the ground, but not for shooting around corners (or at awkward angles). If I bought this camera, I would also invest immediately in touch-compatible screen foil for the touchscreen, given that this is a camera you stuff in your pocket along with lint and sand and gummy bears and whatever else might end up in your pocket. Having the touchscreen scratched up would make me a sad puppy indeed.
The buttons on this camera are about par for the course for Panasonic compacts, if a bit on the light side. The top of the camera has a mode wheel for 11 shooting modes, including a panorama mode, creative video mode, and scene guide mode. The labels take a bit of learning, since "using the automatic settings for aperture and shutter speed" is not A for Automatic but P for Program. The A is used for the Aperture-priority mode. There is also a function wheel that has no markings but is used to scroll through alternatives for the various modes on the screen. The buttons on the back are the standard Panasonic 4-way control around a menu button with Post-Focus, Playback, Display, and the back button arranged around it, and the 4K button at the top right. Three of the buttons are programmable, and there are 5 programmable "touch buttons" that can be called to the screen and programmed with most-used functions.
The Leica DC Vario-Summilux zoom lens on this camera, with mechanical and electronic shutters, is nothing to sneeze at. At 24-72mm (36-108mm in 35-mm equivalent), this camera is going to shoot close-ups, portraits and everyday scenes (much) better than it captures a small animal in the middle of a meadow. There is a Macro Zoom mode available, which focuses from 3cm to infinity. The lens boasts 11 elements in 9 groups, including 4 aspherical elements, 2 aspherical ED (Extra-low dispersion, to combat chromatic aberration) elements, and 1 UHR (Ultra-High Refractive Index, for even sharpness across the image) element. There is no "A" position for the aperture ring; setting the camera to the Program mode overrides whatever the wheel is set to.
The 3x optical zoom and 4x digital zoom combine to make a 6x "Intelligent zoom."
Image stabilization and auto focus
Yes, way back there in the intro I said 5-axis image stabilization, or 5-axis Hybrid OIS (Optical Image Stabilizer), as Panasonic calls it. Sorry for the videographers, but while the OIS does work with video, it does not work with 4K or high-speed video. Perhaps the most surprising thing about the 5-axis OIS is that this is a fixed-lens camera. Panasonic, Olympus and Sony have achieved 5-axis image stabilization by getting the image stabilization built into the lens to cooperate with the image stabilization built into the camera in order to achieve 5-axis stabilization. In other words, it is generally the result of two separate image stabilization systems working together. Is that the case here? Did Panasonic really install two separate image stabilization systems in this one tiny camera? I could not find the answer to that, but it's a lot of technology in one tiny package, either way.
The auto focus is friendlier. It seems to work all the time, near as I can tell, and has two modes: AF and AF Macro. Each focus mode (including the Macro Zoom mode) offers single, flexible, continuous, manual, quick, touch, touch shutter, MF Assist (with and without touch), focus peaking, one-shot, low light and starlight AF. You can automatically detect (and focus to) faces or eyes, or track a selected target.
DMC-LX15 at full zoom (26.4mm/108mm in 35mm equiv.) @ 1/1250 sec, f/2.8, ISO 125. Mouseover for the same shot taken at maximum zoom with the Panasonic DMC-FZ2000 (176.0mm/480mm in 35mm equiv.) @ 1/250 sec, f/4.5, ISO 125
(in)Convenience
Charging the battery by placing the battery in the camera and then connecting the camera to a power source is convenient, in terms of having less equipment to take along on vacation, but less than helpful if you want to use a spare battery that you charge while you shoot. I did not find an optional external charger for sale in an online search of shops, or on Panasonic's site. Given that Panasonic lists the battery life at 260 images, if you shoot a lot, or use continuous shooting modes often, or are a fan of video, then planning ahead is recommended. After getting the spare battery, you'll have to charge it in the camera, switch with the other battery and charge that one in the camera before heading out to shoot.
Memory
Don't skimp on your SD card if you value speed. Panasonic recommends at least a UHS-I Speed Class 3 card for 4K photo or video (or MP4 video). If you use an SDHC card for video, the camera will save each 4GB of the video as a separate file, while saving video in single files if you use an SDXC card. (SDHC cards hold 4-32GB, SDXC cards hold more than 32GB, and UHS Speed Class 3 = 30MB/s.)
Whatever card you use, the camera will stop recording in MP4, FHD, HD or High Speed video after 1 second shy of half an hour. But as those of us old enough to have used 8mm cameras and splice the film remember, there are few situations in which the long clip is the better choice anyway.
LX-10 or LX-100?
In 2014, Panasonic released the DMC LX-100, the camera on the right in the picture below.
The Panasonic LX-100 is an extremely popular camera with a micro Four Thirds sensor, while the LX-10 has a smaller 1-inch sensor, with more noise at high ISO values. As far as resolution is concerned, the sensor of the LX-15 wins with 20 megapixels over the older Four Thirds MOS sensor with a resolution of 12.8 megapixels. Becaue the sensor of the LX-15 is smaller and has more (and thus smaller) pixels on it, the LX100 wins as far as signal-to-noise ratio is concerned. At low ISO values (below 400 ISO), the LX-15 does surprisingly well. The automatic lens cap on the LX-100 is an accessory; it is built-in on the LX-15. The LX-15 is significantly smaller, while the zoom range of the two cameras is comparable. At 24mm, the zoom of the LX-15 with f/1.4 is a bit brighter than the f/1.7 of the LX-100. If budget is an important factor, though, the LX-100 wins hands-down. You can easily find an LX-100 today for under 500 euros, and less if you find one in good condition second-hand. The LX-15 in shops is 700 euros. If you don't take many pictures in low light, then for 200 euros extra you have a camera that is not only lighter and more compact, but also offers many more creative 4K photo options.
Image quality
 Vignetting
In practice, this camera handles a clear blue sky quite well. This shot is at f/2.8. (Mouseover for the same shot taken with the Panasonic DMC-FZ2000. The DMC-FZ2000 is stopped down here to f/4.0.)

DMC-LX15 at 26.4mm (108mm in 35mm equiv.) @ 1/1000 sec, f/2.8, ISO 160. Mouseover for the same shot taken with the DMC-FZ2000 at 21.6mm (59mm in 35mm equiv.) @ 1/1000 sec, f/4.0, ISO 125.
 Low light
The listed ISO goes up to 25600 for still images, but for this shot, given its druthers, the LX-15 chose 1600 ISO for this shot taken indoors during the day with the blinds closed and curtains drawn.

DMC LX-15 at 72 mm (in 35mm equiv.) @ 1/25 sec, f/2.8, 1600 ISO
 Note that the camera did choose a longer shutter time for this shot (in P mode) instead of selecting a higher ISO. With the OIS, that isn't a problem at all shooting my hand. With a brightness ranging from f/1.4 (at the shortest focal length) to f/2.8 (at the longest focal length), I would not be at all surprised to be able to get excellent night shots, and the 5-axis OIS is going to serve you well in those situations.
conclusion panasonic lx-15 review
 pros

cons

Easy to use
4K video and user-friendly 4K photo
High build and image quality
Compact and light
Charge the battery in the camera
Simple to link and operate via a smartphone
Built-in image stabilization

Screen tilts (up) but does not turn
Charge the battery in the camera
No built-in viewfinder
The take-home message? This is a whole lot of camera that you can stuff in your pocket and take along with you. We have said before, you get the best pictures from the camera that you have with you. If you like to play with all the options on your camera, everything is possible with Panasonic, but a larger Panasonic with more buttons might be better for you. Panasonic aims with the Lumix DMC-LX15 for photographers who want to benefit from all the automatic options, that you can customize as you like. What the camera does rather than presenting you with handy settings buttons and knobs for each parameter, is to have chosen a design that lets you very easily set boundaries for the camera to work inside of, and allows you to adjust the aperture, shutter time, white balance, focus point, and everything else only when you feel comfortable doing so. For casual and starting photographers, for quick snaps when on vacation, and for those of us who just want great pictures without much hassle, this is a fantastic camera.