The Samyang AF 18mm F2.8 FE is the lightest and smallest super wide-angle with autofocus that you can buy for full-frame cameras. It is also extremely cheap. Is it worth anything? Absolutely. The Samyang AF 18mm F2.8 FE performs well.
Click on the lens for specifications, prices and test results.
TEST RESULTS: Samyang AF 18mm F2.8 FE :

PROS

CONS

Good image quality

Light

Small

Good autofocus

Competitive price

Contrast a bit soft

Corners at full aperture not very sharp

Not weatherproof
The Samyang AF 18mm F2.8 FE is the smallest, lightest and least expensive super wide-angle with autofocus for full frame. And the performance is fine.
The Samyang AF 18mm F2.8 FE is a small, light and very affordable super wide-angle for full-frame Sony cameras with an E-mount. That means all the A7 and A9 models. On these cameras, this lens offers a field of view of no less than 100 degrees. No other lens of this size and this weight offers such a wide, rectangular (non-fisheye) image as this Samyang. Voigtlander makes an even smaller 21mm f/3.5, but it is less wide, less bright, half again as heavy and lacks autofocus. Although the Samyang AF 18 mm F2.8 FE is very small, it is also not a real pancake lens like the Samyang AF 35 mm f/2.8 FE and the Samyang AF 24 mm f/2.8 FE. It is more in line with the latest lenses from Samyang, like the AF 45 mm f/1.8 FE and the beautiful Samyang AF 75 mm f/1.8 FE.
The image circle of this Samyang AF 18mm F2.8 FE is therefore large enough for full frame. But the lens is so small and light that it's also not out of place on an APS-C camera. On the smaller APS-C sensors, this Samyang offers the field of view of a 28mm on full frame. On APS-C, the outer corners of the Samyang  AF 18mm F2.8 FE remain out of view, and you only use the optically outstanding center. That doesn't mean that you don't get a good picture on full frame. On the contrary, the image quality is generally excellent. When you also look at the price, the quality is even ridiculously good. For landscapes or architectural shots that need to be sharp from corner to corner, it's a good idea to stop down a few stops, but that is actually a good idea with every lens for such subjects.
BUILD 
The Samyang AF 18mm F2.8 FE is small. Did we mention that? It is even shorter than it is thick, with a diameter of almost 64 mm and a length of less than 61 mm. It is also very light, with a weight of 145 grams. Of course, you can't expect a metal housing with that weight. However, the plastics used are of a beautiful quality, the focusing ring turns very smoothly and without play, and the lens looks neat, with a beautiful red ring as an additional accent. Even a plastic lens hood is included. It can be mounted backwards on the lens, but it is so short that it hardly makes any difference. Just leave it on. The mount is made of a lightweight metal. As a result, you don't have to worry about excessive wear when changing lenses a lot.
The optical design consists of 9 lens elements in 8 groups. Three of those elements are aspherical, and five of them are made of special glass types. Samyang has obviously done its best here. The diaphragm consists of 7 blades. You aren't going to buy an 18mm wide angle with a brightness of f/2.8 for the bokeh, so those 7 blades are plenty.
FOCUS
In terms of autofocus, the Samyang AF 18mm F2.8 FE has taken big strides in just a few years. The first Samyang lenses were only available with manual focus. The first models with autofocus had some minor childhood ailments here and there. But that all seems to be history. The focus is sufficiently fast, very quiet and also quite accurate. The lens elements that have to be moved are of course small, and the distances they have to travel are even smaller. That helps. Eye AF and facial recognition work fine, although with such a large field of view you should not be too far away from your subject. Manual focusing is of course also possible, but with the amount of focal depth that you quickly get with such an extreme wide-angle, that is not easy to do accurately. There is no focus indication on the focus ring for setting a hyperfocal distance.
IMAGE QUALITY
The Samyang AF 18mm F2.8 FE performs well in practice. At full aperture, the center is sharp, but there is a clear gradient to the corners. If you photograph a subject in the foreground, with a background that falls outside the depth of field, then you will not be bothered by this. But for landscape photography or a bit of architecture or interior photography, you will have to stop down more. From f/5.6, the corners are also quite sharp, and they remain that way at f/8 and f/11. After that, the sharpness decreases again due to diffraction.
The distortion is fairly low with the Samyang AF 18mm F2.8 FE. If you don't have too many straight lines straight along the edges, then you won't see it. However, the distortion is not entirely linear, so it is not purely barrel-shaped or cushion-shaped, but a little wavy. You can't easily eliminate that in Lightroom or Capture One if you want to.
Vignetting is certainly clearly visible at full aperture. Fortunately, after stopping down, at f/4, it already gets a lot better, and at f/5.6, you can hardly see any of it anymore.
Chromatic aberrations are not bad but can be found at full aperture in the corners. That decreases with a bit of stopping down. The contrast of the Samyang AF 18mm F2.8 FE is a fraction lower than we see with other wide-angles for Sony. The color reproduction is also a little warmer. Whether you like that or not is of course a matter of taste, and if necessary you can easily adjust it in post-processing.
COMPARED TO THE COMPETITION
The Samyang AF 18 mm F2.8 FE has two major competitors: the Zeiss Batis 18 mm f/2.8 and the Tamron 20 mm f/2.8 Di III OSD M1:2. The Batis because it has the same field of view and brightness as the Samyang. The Tamron because it is reasonably in the same price range as the Samyang and hardly weighs any more. There are, of course, differences. For example, the Zeiss is much bigger, heavier and, above all, much more expensive. The Batis costs three times as much as the Samyang. The Tamron only costs a fraction more than the Samyang. For that, you get a good seal against moisture and dust extra but give up 2mm of wide angle.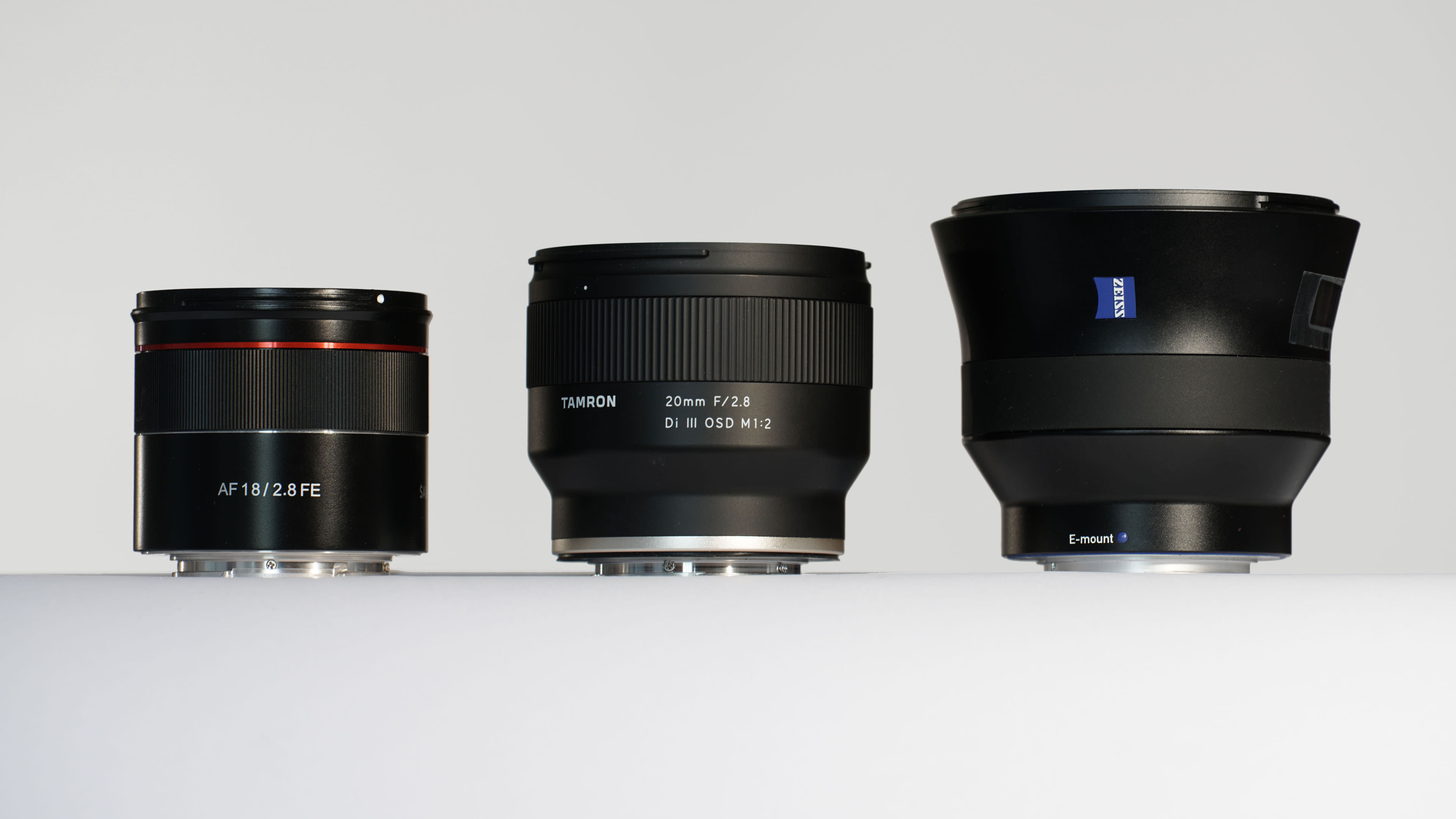 When it comes to image quality, the Batis is the best of these three. The Batis delivers good sharpness in the corners even at full aperture, and the contrast is beautiful. The Tamron does nearly as well, which is special because the Tamron, like the Samyang, costs about a third of the Zeiss. Compared to these two lenses, we see that the Samyang is almost as good in the center at full aperture but clearly less sharp in the corners. That improves reasonably well when you stop down, so around f/5.6 and f/8, the corners are also fine. Another typical feature of the Samyang is that both the overall contrast and the microcontrast are somewhat low. As a result, the shots look slightly less spicy, and you just don't get the quality you get with the other two wide angles.
There are also functional differences between these three lenses. The Zeiss and the Tamron are both weather-resistant, with gaskets in the lens and at the rear. The Zeiss also offers a metal housing and an OLED screen for reading focus information. The Tamron has a maximum magnification scale of 1:2 as an additional option. The Samyang AF 18mm F2.8 FE does not have all that, but it balances that out with its small dimensions and low weight. And actually, its brightness. Because for a lens that wants to be small and light, you would actually expect it to be an f/3.5 or f/4. This lens lets you slide it easily into your jacket pocket or a small compartment in your bag.
Samyang AF 18mm F2.8 FE SAMPLE IMAGES
Curious about the performance of the Samyang AF 18 mm F2.8 FE in practice? Click on the button below and visit our renewed web gallery with sample images. The images can be downloaded in full resolution to be viewed at 100%.
| | |
| --- | --- |
|   | Samyang AF 18mm F2.8 FE |
|   | specifications |
|   |   |
| field of view (diag) | 100° |
| sensor format | Full frame |
| min. setting distance | 25 cm |
| filter diameter | 58 |
| diaphragm blades  | 7 |
| image stabilizer | none |
| dimensions (dxl) | 63.5×60.5 mm |
| weight | 145 gr |
| mount  | Sony FE |
| particulars | Small, light and inexpensive |
| importer | www.transcontinenta.nl |
| list price | € 365.00 |
|   |   |
| resolution power | 8 |
| contrast | 7,5 |
| chromatic aberration | 7,5 |
| distortion | 9 |
| vignetting | 8 |
| autofocus | 9 |
| flare | 8,5 |
| finish  | 9 |
|   |   |
| final score | 8,3 |
ConclusiON: REVIEW Samyang AF 18mm F2.8 FE oN Sony A7R III
The Samyang is a nice super-wide angle for traveling.

The Samyang AF 18mm F2.8 FE is a fine, small super wide-angle. Optically, it does not achieve the performance of the best wide angles, but it balances that with other qualities. It is namely the smallest, lightest and least expensive option if you are looking for a super wide-angle for the Sony system. Those are three good reasons for choosing this lens. Do you not use a focal point like this often, so you don't want to spend too much on it? Do you want an extreme wide angle, but don't want to give up too much space or weight in your bag? In all these cases, this Samyang AF 18mm F2.8 FE is a good choice.