The Samyang AF 24-70 mm F2.8 FE is Samyang's first zoom lens.  It is competitively priced and offers a number of special features for both photographers and videographers.
TEST RESULTS Samyang AF 24-70mm F2.8 FE:

pros

cons

High brightness
Parfocal
Programmable focus ring
Competitive price
Weatherproof
The AF 24-70 mm F2.8 FE is a scoop for Samyang. It's their first zoom lens.
Introduction
For their first zoom lens, Samyang did not look for a gap in the market or a special range that is not yet there. Instead, they have opted for a lens that is – in Samyang's words – the most versatile and universal. The Samyang AF 24-70mm F2.8 FE is certainly versatile. It offers a range from quite a bit of wide angle to slight telephoto, combined with high brightness. As a result, you can handle many subjects with this lens, from landscape to portraits with a shallow depth of field and shots in low light. These are properties that apply to every 24-70mm F28. Samyang looked at how they could make the lens even more versatile. The autofocus offers linear autofocus in manual focus, the autofocus ensures smooth focus and the lens should be parfocal. This means that it retains focus when you zoom in or out. These are all qualities that are of interest to filmmakers. The AF 24-70mm F2.8 FE is therefore well suited for both photography and filming. The lens is therefore also available in a kit with a follow-focus.
Custom Switch
Another special feature is that the Samyang AF 24-70mm F2.8 FE has a focus ring that is programmable. The lens has a switch with 2 custom settings. Of course, you can choose to only have the focus ring do something if you want to focus manually. But you can also program it to use as an aperture ring and according to Samyang, more options will be available in the future. Of course, it is not unimportant that the lens is competitively priced compared to the competition.
Construction
The dimensions of the AF 24-70 mm F2.8 FE are fairly average. The weight is slightly higher. Both the Sony and the Sigma 24-70 mm F2.8 weigh less than 900 grams. The Samyang is more than a kilo. The lens has a big focus ring at the very front and an approximately the same big zoom ring in the middle of the lens. Behind it is the custom switch on the left side with which the function of the focus ring can be changed.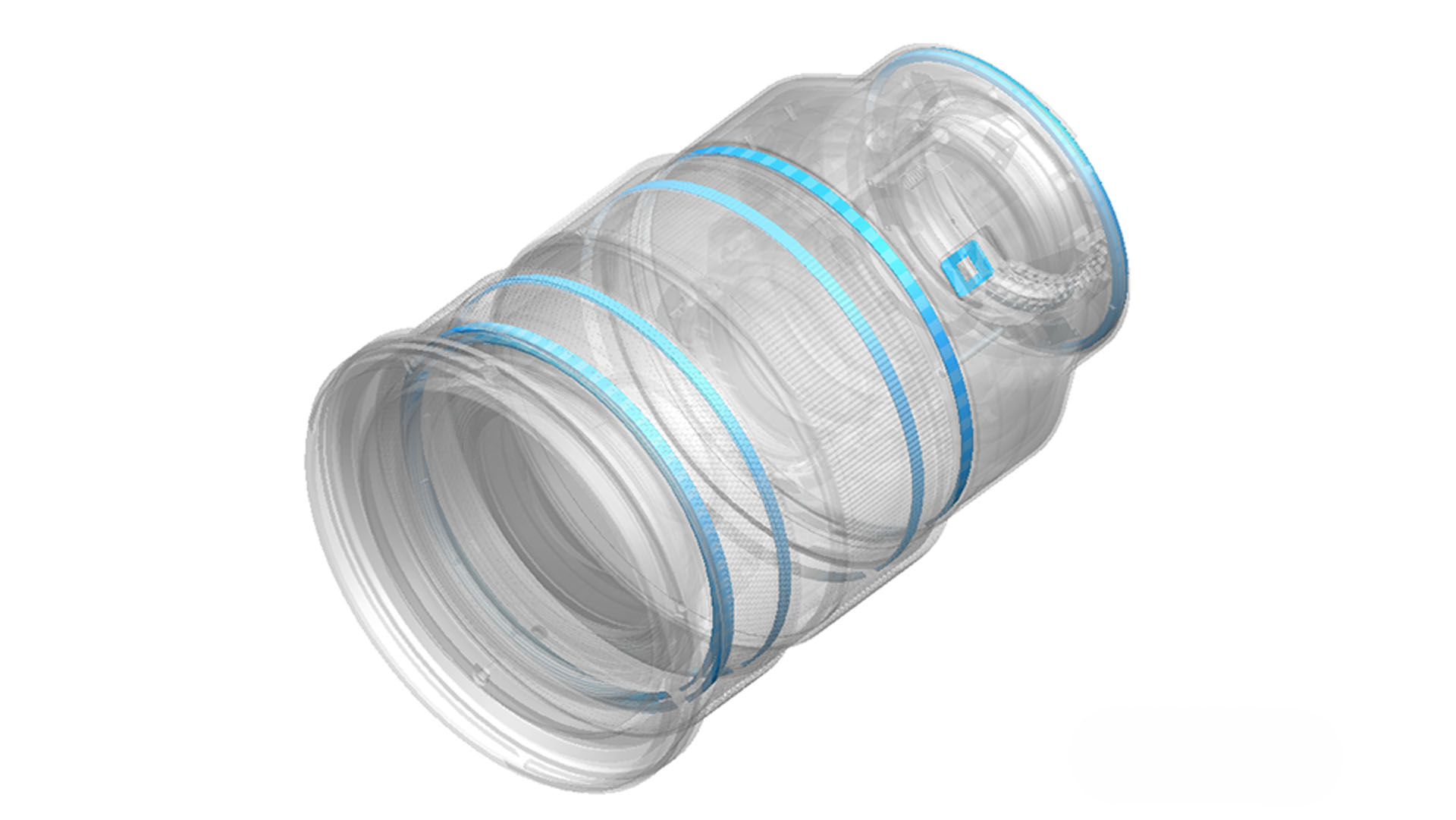 The Samyang AF 24-70mm F2.8 FE is weatherproof and equipped with a gasket on the mount. The optical design consists of 17 elements in 14 groups and includes 2 aspherical elements, a hybrid aspherical element, 3 elements of HR glass and 3 elements of ED glass. The aperture has 9 blades and the filter size is 82mm. That is quite common for 24-70mm F2.8 zooms.
Focusing Samyang AF 24-70mm F2.8 FE
The Samyang AF 24-70mm F2.8 FE uses a linear stepper motor for the autofocus. The focus group of this lens is heavier than usual for Samyang, but the motor is designed for that, according to Samyang. A stepper motor has the strong quality that it is very quiet and that shifting the sharpness is smooth. Samyang also claims that the lens is parfocal. This means that the location of the focal plane does not change when you zoom. That is a quality that actually only comes across with real cine lenses. The shortest setting distance is 35 cm. The maximum magnification that you can achieve with this is 0.27x. That's enough for a decent close-up.
Image quality Samyang AF 24-70mm F2.8 FE
The MTF curves of the Samyang AF 24-70mm F2.8 FE look decent, with good center sharpness both in the wide-angle position and in the telephoto position at full aperture. At 24mm there is some decay in the corners on F2.8, at 70mm this is a bit less. The shots that we have been able to assess so far also show a barrel-shaped distortion at 24 mm and a slight pincushion-shaped distortion in the telephoto position. Perhaps this can be improved in the future with a better lens profile, otherwise there is always the possibility to correct this in post-processing.
The Samyang AF 24-70mm F2.8 FE delivers reasonably beautiful sun stars and has little trouble with flare or ghosts with the sun directly in the picture. Photo: Carles Calero.
| | |
| --- | --- |
|   | Samyang AF 24-70mm F2.8 FE |
|   | specifications |
|   |   |
| field of view (diag) | 53°-86° |
| sensor format | full frame |
| min. setting distance | 35 cm |
| filter diameter | 82mm |
| diaphragm blades | 9 |
| image stabilizer | no |
| dimensions (dxl) | 88×129 mm |
| weight | 1027 gr |
| mount | Sony Fe |
| particulars | programmable focus ring |
| importer | www.transcontinenta.nl |
|   | € 899,99 |
|   |   |
| scheidend vermogen/10 | – |
| contrast/10 | – |
| chromatische aberratie/5 | – |
| vertekening/5 | – |
| vignettering/5 | – |
| autofocus/5 | – |
| overstraling/5 | – |
| uitvoering/10 | – |
|   |   |
| eindwaardering | – |
Conclusion test Samyang AF 24-70mm F2.8 FE
The Samyang AF 24-70 mm F2.8 FE is an attractive option for budget-conscious photographers.
There is no shortage of bright standard zooms for Sony Alpha cameras. So what does the Samyang add? If you look at 24-70mm F2.8 zooms, you can choose the more than twice as expensive Sony version or the Sigma 24-70mm F2.8 Art. That too is still about 30% more expensive. Another alternative is the Tamron 28-75mm F2.8 Di III VXD G2. That costs about the same as this Samyang, but lacks the extra wide-angle range and the custom mode for the focus ring. The lenses from Sigma, Sony and Tamron are also none of them parfocal, and for videographers this can make all the difference. The Samyang AF 24-70mm F2.8 FE is therefore a very attractive option for photographers who are looking for maximum functionality for a minimum price.