The Sigma 18-250 mm OS Macro has come on the market in mid-2012. The Sigma 18-250 mm OS Macro differs from its Sigma 18-250mm predecessor in terms of optical design (16 elements in 13 groups instead of 18 elements in 14 groups), the application of a faster (HSM) AF motor and a lighter weight (470 grams instead of 630). The length has been reduced from 10 cm to less than 9 cm. The minimum focusing distance is 35 cm instead of 45 cm.
Zoom lenses with a zoom range of 10x or more are sometimes called walk around lenses, since  the large focal range makes it possible to walk around the whole holiday without changing your lens. Recently we tested the more expensive Nikon Nikon 18-200 mm and 18-300 mm lenses. Will the Sigma 18-250 mm be able to keep up with these two good walk around zoom lenses made by Nikon?
Sigma 18-250 mm Field of view @ 18 mm


FOV Sigma 18-250 mm @ 250 mm
A 14 x zoom range provides a spectacular difference in perspective. The Sigma 18-250 mm is only suitable for a camera with an APS-C / DX sensor and has a field of view corresponding to field of view of a 27-375 mm zoom lens on a camera with a full frame sensor.
Construction and autofocus
This lens is small and light, but well built. Two switches are available:  a switch for selecting between AF and manual focus and a "lock" switch for the moments you're not using the lens / transport.
Thanks to the HSM, the AF focuses quickly. A disadvantage inherent in the design of compact telephoto zoom lens, is the limited brightness. The AF of many cameras no longer functions when using lenses with an aperture of 8 or smaller. For the same reason, a 2x teleconverter can only be used with lenses at aperture 2.8 or lower. This lens has a maximum aperture of f/6.7 at the focal length of 250 mm, so it's sufficiently fast to use the AF. During testing we found that images made @ 250mm from a tripod differed in sharpness. Dpreview reported something similar in their Nikon 18-300 mm review : ("we saw a certain predisposition towards random misfocusing towards the telephoto end of the zoom").
In the most compact configuration, the Sigma 18-250 mm macro is only 10 cm long. If you zoom to a focal length of 250 mm, then the length of this lens almost doubles.
Sigma 18-250 Macro
Strictly speaking, a macro lens has a reproduction ratio of 1:1 (the image on the sensor is the same size as the original). According to that definition, the Sigma 18-250 mm Macro, with a magnification ratio of 1:1.5, is no real macro lens. However, you do not always need a true 1:1 magnification ratio to shoot nice images. The shortest focusing distance of 45 cm will often be good enough.
Image Stabilization
The Sigma 18-250 mm is available with optical stabilization (OS), which according to the specifications of Sigma delivers you a 4 stops profit. There is an OS version available for Canon, Nikon and Sigma mount. Not for Sony and Pentax mount, because there the image stabilization is built into in the camera. In this review, we have not tested the image stabilization.
Vignetting
Given the small size and enormous zoom range of this lens, the amount of vignetting is surprisingly low. The maximum vignetting can be seen using the extreme focal lengths at maximum aperture. And even then the amount of vignetting is less than 3/4 stop, which means that you will only notice it in images of very evenly lit subjects, such as a clear blue sky.
Sigma has provided Adobe good correction profiles for the correction of vignetting by the Sigma 18-250mm in Photoshop or Lightroom. If you use these correction profiles, then the score for vignetting in the conclusion will be almost 1 point higher than the nice score this lens already has.
Distortion
Like the other zoom lenses with a focal range of 10 or more, the Sigma 18-250mm exhibits a clearly visible distortion, which change from barrel at a focal length of 18 mm into visible pincushion at 35 mm or higher. Also in this case it is good to use the lens correction profiles in Lightroom. In the image below at the right, you see the result of the correction. Both barrel distortion at 18mm and the pincushion distortion above 35 mm completely disappeared. This correction profile is only available for RAW files. If you apply the Lightroom or Photoshop Lens corrections, the distortion score in the conclusion will be higher than 9.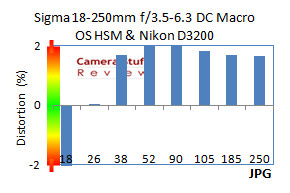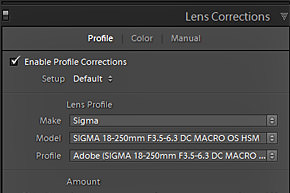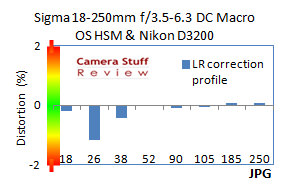 Bokeh
The Sigma 18-250 mm provides a nice circular bokeh, as you can clearly see in this sample image. In the lower right part you can a 100% crop that shows the bokeh rings. Looking at bokeh, there seem to be little differences between the walkaround zoom lenses we have tested to date.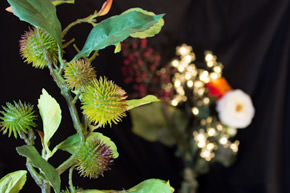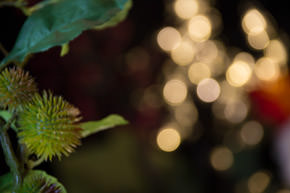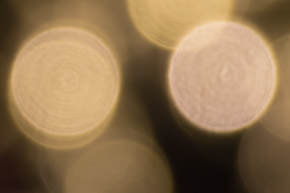 Flare
We encountered both ghosting and green flare in our studio test, where the lens was aimed at a strong light that we just left out of the frame. Here you see an example of ghosting in the form of aperture rings. The performance of the Sigma 18-250mm is not bad, but there are many Sigma lenses which shw a higher resistance towards flare. Using the supplied lens hood is recommended. Because the hood must be suitable for a focal length of 18 mm, the lens hood when using long focal lengths less value.
Resolution Sigma 18-250mm
The Sigma 18-250 mm has a good center sharpness. The highest sharpness is achieved at aperture 8. At all focal lengths, the center sharpness is visibly higher than the sharpness at the edges or corners. Remarkably, the sharpness in the center of the zoom range is slightly lower than at the extreme focal lengths. Usually it's different with zoom lenses, and it's the extremes that some weaker. Personally, I appreciate that the 18 mm and 250 mm focal lengths are slightly sharper, because I use the extreme focal lengths more often.
If there is sufficient light to set the aperture to f / 8, and the shutterspeed remains sufficiently short to avoid blur, you get very sharp images with this lens. Here you see a sample image taken at a focal length of 18 mm and f / 8.
Chromatic aberration
Sigma lenses are usually well designed with respect to minimizing chromatic aberration, which can be seen in our previous Sigma lens reviews. The Sigma 18-250 mm exhibits little chromatic aberration in jpg files. Possibly because of in-camera correction of chromatic aberration by the Nikon D3200 ? Yes, but the chromatic aberration in RAW files without any lens correction, is still good as well. Nevertheless, if you're going te enlarge a RAW file to a very large print, it is worthwhile to eliminate the last bit of chromatic aberration in Lightroom or Photoshop.
Conclusion Sigma 18-250 mm Macro OS HSM review
Pro
Large zoom range
Compact size, light and well built
Almost real macro: magnification-ratio 1:1.5
Attractive price
Con
Not very fast aperture, especially at 250 mm (f/6.3)
Large distortion
When you take a look at our table of tested zoom lenses with a zoom range of 5x or more, and you compare the optical performance of Sigma 18-250 mm to the performance of the Nikon 18-200 mm and the Nikon 18-300 mm lenses, the Nikon lenses score higher for distortion. That is not the benefit of a better lens design: the Nikon D3200 corrects distortion in jpg of Nikon lenses only. When you correct distortion using a standard lens-profile  in Lightroom or Photoshop corrects the distortion, the score for distortion will be higher than 9 for almost all focal lengths. Looking at other parameters than distortion, it is striking how small the differences in image quality are. At the longest focal lengths, the Nikon is slightly sharper than the Sigma.
In practice, you will notice some other obvious differences: the Sigma 18-250 mm is cheaper, more compact and lighter. For a walkaround zoom which you will carry your entire vacation, these are also important parameters when you pick your lens.