is also the best lens for Canon 1200D
Canon offers a broad array of camera that are specially made for photographers who are buying their first SLR camera. Whether you choose a compact SLR (Canon 100D), an all-around SLR (Canon 700D), or an inexpensive SLR (Canon 1200D), there's a suitable Canon SLR camera for every starter. All these cameras have an APS-C sensor of 22.2 x 14.8 mm.
That you have the freedom with an SLR camera to choose a lens that best fits your creative urges does not have to mean that photography becomes an expensive hobby. Out of all the lenses that we have reviewed on a Canon APS-C camera, we select the best lens for a 700D, 1200D, EOS 100D or the predecessors of these cameras such as the Canon 650D, 600D, 1100D, 1000D, etc., on the basis of weight, scope, price and our independent review results.
Usually, a landscape is photographed with a focal length of less than 100 mm. But with a wide-angle or a standard lens, you wouldn't have gotten the auto in the foreground, the cloister and the mountains all balanced in the frame. Here, a longer focal length delivers a great landscape photo. Happily, the weather was very clear, because a slightly hazy sky is disastrous for the contrast and sharpness of a telephoto shot.

Best lenses for Canon 700D:
The best lens for a Canon 700D does not exist.
We have made a selection from among the 42 lenses that we have reviewed on a Canon APS-C camera.
In How do I choose a lens? (Subjective strategy for purchasing a lens), you will find our selection criteria for the perfect lens for a beginning Canon SLR user. That is to say, we assume that you're a hobbyist who is looking for a(nother) lens that in terms of budget, dimensions, quality and applications matches your 700D, 100D or 1200D.
Perhaps you don't yet have a Canon SLR camera, but you're considering buying one of these cameras? Are you uncertain which lens is the most suitable for the subjects that you want to photograph? Depending on your capacity (financial and physical), the subjects that you choose and your ambitions, there are multiple options. Only lenses that we have reviewed will be included. We are continuing to do reviews, so that in a year we can supplement this article with even more attractive lenses for Canon EOS beginners..
I have a Canon 700D/100D, but I'm not a starter!?
A starter will probably not want to pay more for a lens that for the camera body. The street price of a Canon 1200D is now around 300 euros, and that of a 700D, around 500 euros. We therefore limit ourselves as much as possible to lenses with a list price of 500 euros or less. The store price is then usually even lower. For the starters, we expressly focus on lenses that are as compact and light as possib.e. Do you have a Canon 70D, 7D or 60D and want to spend as little as possible on a lens with a high price-to-quality ratio, a low weight and compact dimensions? Then the lenses in this article are also attractive for you.
It's possible that you're not a starter but an (advanced) amateur photographer who has a compact, light Canon SLR camera such as the 700D. Then you probably have no objection to spending a bit more money, or choosing a larger, heavier lens. In that case, see: The best lenses for a Canon 70D, which will appear in a couple of weeks. That will include more expensive, larger, heavier and better lenses, which we think are ideal candidates for (advanced) amateur photographers, prosumers or professionals.
Do you know the difference between EF and EF-S?
Canon makes compact, attractively priced lenses that are specially designed for cameras with an APS-C sensor, such as the Canon 1200D or Canon 700D. These lenses are recognizable by the "EF-S" in their name. The lenses that are also suitable for use on cameras with a full-frame sensor (Canon 6D, Canon 5D MK3) are indicated with "EF".
The advantage of EF-S lenses is that they are lighter, smaller and less expensive than EF lenses. The disadvantage of EF-S is that you cannot use them on a camera with a full-frame sensor. That can be important for you if you want to buy one in the future. And this disadvantage is not relevant for photographers who are satisfied with the image quality of an APS-C sensor and therefore do not want to switch to a heavier, more expensive camera with a larger sensor and more expensive lenses.
EF lenses can be used on both full-frame and APS-C cameras. And as far as image quality is concerned, EF lenses on an APS-C camera – thanks to the smaller sensor – have less trouble with vignetting, distortion and chromatic aberration than on a full-frame camera.
In this article we advise, specifically due to weight and price, primarily the less expensive EF-S lenses. In "The best lens for Canon 70D," we take more into consideration an eventual switch to a full-frame camera. There, more EF lenses will be advised.
There are other lens manufacturers that also make good lenses for Canon camera, including Sigma, Tokina and Tamron. These manufacturers have not adopted the EF and EF-S indication. Their EF-S lenses are named:
DC for Sigma lenses
Di-II for Tamron lenses
DX for Tokina lenses
In contrast with the Canon EF-S lenses, the Sigma DC, Tamron Di-II and Tokina DX will fit on a Canon camera with a full-frame sensor, although you get a dark edge in return. These lenses are, after all, designed for a smaller sensor.
If the Canon 700D, 1200D or 100D is your first SLR camera, then first look at a "kit": that is usually a bit less expensive than the purchase of a separate camera body and lens.
The first lens that you come into contact with as a Canon 700D or Canon 1200D user is probably the Canon 18-55 mm kit lens. There are multiple variations of this lens: without image stabilizations (2005), with IS/image stabilization (version I from 2007 and version II from 2011) and with image stabilization plus a step motor for silent video recordings (IS STM, 2013). If you want to buy this lens second-hand at a bargain, pay close attention to the type number. This also applies for the reviews about it that you read.
The Canon 700 is currently (for 565 euros) offered in combination with Canon EF-S 18-55mm IS STM. A separate body costs about 435 euros. The Canon 18-55 mm IS STM costs 150 euros.
There are experienced photographers who are dismissive about the quality of a kit lens. Even so, you can make beautiful photos with them, so don't be led blindly into exchanging the kit lens if you're satisfied with the quality of your photos. Only when something gets in your way in taking creative shots is it time to replace your kit lens, or to buy a specialized lens as well.
Possible reasons to replace the kit lens are:
You prefer to use 1 lens, but find the 18-55 mm zoom range to be too limited.
You want a lens with a nicer background blur, with which you can also photograph better in the dark without a flash.
You're very critical about image quality and will gladly pay a bit more for a better lens.
You're going to be photographing under extremely damp, dusty, cold or hot conditions and you want to be sure that your shots will work.
You are going to specialize more in one type of photography (nature photography, concert photography, wedding photography, street photography) and you now want to also have a lens that fits your specialty better.
Possible reasons to purchase a supplement to the Canon 18-55 mm kit lens are:
You want to get more into a photo than you get with the kit lens ("more wide-angle," that is to say, as short a focal length as possible), or you want to bring subjects closer to you ("more telephoto," or, as long a focal length as possible).
You want to experiment with what it's like to photograph with a fixed focal length, for example in order to better isolate your subject from the background.
Photography is your hobby and you want to have a specialty lens (low-light/macro/portrait) in order to explore your creativity.
I previously selected the Sigma 17-70mm Contemporary as the zoom lens for APS-C (article in Dutch only). The larger zoom range makes the Sigma 17-70 mm Contemporary a perfect standard zoom lens. For less than 500 euros, you get a bright, especially solidly built lens with built-in image stabilization and a higher image quality than the kit lenses. In comparison with its predecessor, the Sigma 17-70 mm Contemporary is optically better, 30% lighter and less sensitive to flare.
If you don't want a zoom lens that is only suitable for APS-C, then the equally bright Tamron SP AF 28-75 mm/2.8 XR Di is a possible choice with an attractive price tag.
We consider all zoom lenses with a zoom range of 5 or more to be superzooms. With similar zoom lenses, the difference between the shortest focal distances and the longest focal distances are so great that you can spend an entire vacation photographing without having to change the lens once. A superzoom is longer – especially when you zoom out to the longest focal distance – and heavier than a kit lens. The image quality of a superzoom is a bit less than that of the kit lens, because the greater the zoom range, the more compromises must be made in the design of the lens.
In terms of image quality, the reviewed 18-200 mm/18-270 mm zooms are very similar. In all cases, the sharpness at longer focal distances is lower. The Sigma 18-200mm Contemporary is inexpensive, quiet and small.
For many photographers, the practical considerations are more important than the very highest image quality. Those photographers are mostly quite satisfied with the image quality of a superzoom. A Canon 700D with superzoom delivers a much higher image quality and more options than a smartphone, which you don't have to take along any extra lenses. All superzooms, including the relatively inexpensive ones from Sigma and Tamron, are equipped with built-in image stabilization, so that you can also use them well in low light.
There is also a group that is strongly focused on the disadvantages of a superzoom. Judge for yourself what you find important and good enough. In our reviews, we evaluate all lenses in the same way, meaning that you can compare the image quality of various lenses with each other. A lens with an 8 is visibly better than a lens with a 7. With small differences after the decimal, you'll have to search carefully to discover the quality differences. On Flickr, you can find a page for every lens. Search with Google (for example, for "Canon 18-135 mm Flickr") to view practice shots.
Macro=macro, if it says Macro?
Many lenses are labeled as "Macro." Most of them are not real macro lenses, although you can make really nice close-ups with them.
With a macro lens, the image on the sensor is the same size as the original (in photography lingo, an image scale of 1:1). When taking a macro-shot, you come very close to the subject. The shorter the focal distance, the smaller the distance from the subject.
With a focal distance of less than 100 mm, the chance is good that you'll block the light from the subject. If you want to photograph a small animal, you're likely to chase it away just before you can take a shot.
We have reviewed 3 affordable macro lenses on a Canon 650D. The Sigma 105 mm f/2.8 macro (with a store price of around 500 euros), the Tamron 60 mm f/2 (with a store price of 375 euros) and the Canon EF-S 60 mm macro (400 euros). For insects, you'll prefer the macro lens with the longest focal distance (Sigma 105 mm f/2.8 macro). The more compact and less expensive Canon EF-S 60 mm/2.8 Macro also performed very well in our review and seems to us to be a good choice for a Canon 1200D of 700D.
Photos made with a focal distance of 15 mm or less are really much more spectacular than shots made at 18 mm. If you had wanted to make the photo below with an 18-55 mm lens, then you would probably have had to stitch together two or three shots to get approximately the same image. Save yourself the hassle, and choose a wide-angle zoom. A really nice wide-angle zoom that we recommend to every Canon 700D/1200D/100D owner is the Canon EF-S 10-18mm f/4.5-5.6 IS STM. More to the point, this is the first lens that you should buy after or at the same time as the 18-55 mm zoom lens. The price of 279 euros is really spectacularly low. The image quality will not disappoint you. The Canon 10-18 mm STM is almost as compact as the Canon 18-55 mm STM and also has built-in image stabilization. What else could you want?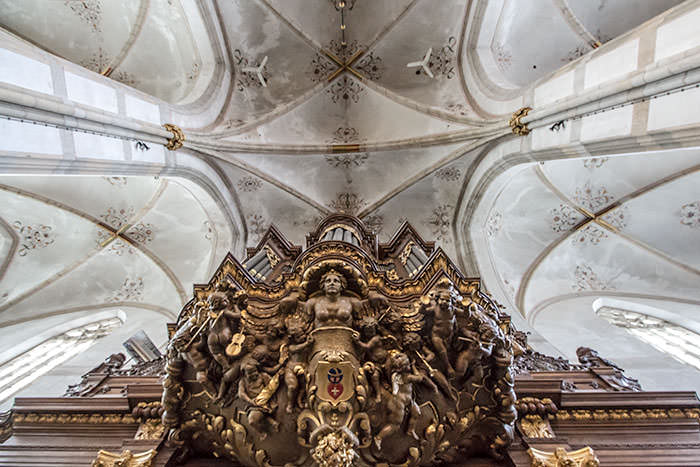 If you make a portrait with a short telephoto lens (50 mm – 85 mm on a Canon 700D/1200D/100D) with a high brightness (f/2.8 or lower), you'll quickly be appreciated for your photo. With little sharpness depth, the art is to focus precisely on the closer eye. That is simpler when the model sits still.The Tamron 60mm f/2 Di II LD IF Macro is designed for use on a camera with an APS-C sensor and offers the same possibilities as the famous Tamron 90 mm macro f/2.8 on a camera with a full-frame sensor. The high brightness and the field of view, which corresponds with a 90 mm lens @ full-frame, make this lens ideal for playing with background blur in portraits or for taking macro shots in low light. Due to the high brightness, this lens is also our choice for an affordable low-light lens for a Canon 700D.
If you want to bring a subject that is far away, in this case a couple of starlings at dusk, closer to you, then you need a telephoto lens, a lens with a focal distance of 200 mm or more.
As far as we're concerned, there's still an opening for the title "The best telephoto lens for a Canon 700D." We have so far reviewed four zoom lenses with a focal length of at least 200 mm and a list price below 1000 euros:
Canon EF-S 18-200 mm f/3.5-5.6 IS
Canon EF-S 55-250 mm f/4-5.6 IS II
Sigma 18-200mm F3.5-6.3 DC Macro OS HSM Contemporary
Tamron 18-270mm f/3.5-6.3 Di II VC PZD AF
None of these lenses delivered bad results on a Canon 700D or 1200D at a focal distance of 200 mm or more, but we're still searching for the affordable telephoto lens that stands head and shoulders above the others.
Experienced photographers often work from creative considerations with a fixed focal point. Because you cannot zoom in or out, a fixed focal point forces you to think more carefully about the composition of a photo. Most owners of a Canon 700D – and certainly a Canon 1200D – will probably be shocked at the prices for good fixed-focal length lenses. A list price above 500 euros is not unusual. We've found a pearl, with a much more reasonable price:
On a camera with an APS-C sensor, you would preferably first choose a lens with a 35 mm – potentially 40 mm – focal distance because that in terms of field of view comes closes to a 50 mm standard lens on a camera with a full-frame sensor. The Canon EF 40 mm f/2.8 STM is not only inexpensive (for sale for 175 euros, sometimes less), small and light, the silent STM auto focus also makes this lens for the Canon 700D very well suited to video recordings. The AF of STM lenses works with Liveview or video faster on Canon cameras with hybrid AF, such as the Canon 700D or 650D. The Canon 1200D and 1100D do not have hybrid AF, so with those cameras, STM offers no extra speed advantage with video or Liveview.
Must for Canon 100D:
Have you chosen a Canon 100D because it's so small? Then choose the Canon 40 mm in any case – smaller than the kit lens, with an image quality that beats out many larger and more expensive lenses.
A beautifully even background blur, or bokeh, is certainly not only determined by the size of the sensor. The lens quality – think about brightness, focal length, glass types applied, the shape of the aperture – is at least as important. Do you want the same beautiful background blur as in the shots of photographers with an expensive full-frame camera and an expensive, bright f/2.8 lens? You don't have to exchange your Canon 700D yet for a Canon 6D. There are various modern bright lenses for cameras with an APS-C sensor, where you won't see any difference in the bokeh from the best lenses on a full-frame camera.
The previously named Tamron 60 mm f/2 macro left a very good impression for its bokeh in our review. The Sigma 18-35mm f/1.8 DC HSM Art is a bright zoom lens with the unique combination of high sharpness at full aperture, a beautiful bokeh and a price of 725 euros. This is the most expensive lens that we advise for a Canon SLR camera for beginners; this lens would not be out of place on a semi-professional Canon 7D or 70D. The press reviewers were unanimously of the opinion that the price tag for the offered quality and brightness is extremely attractive. Because photographers often work longer with one lens than with one camera, this is a responsible investment.
PS:Need more lens advice for a different Canon camera body? Then click here: