At the beginning of January 2014, Panasonic announced the LEICA DG NOCTICRON 42.5mm/F1.2 ASPH. /POWER O.I.S. (H-NS043), telephoto lens with a fixed focal length, built-in image stabilization (OIS) and autofocus. Only the extremely high brightness makes this lens unique for a micro-43 lens. In addition, this lens got from Leica the name NOCTICRON. That this lens has AF capability means that the Panasonic 42.5 mm Nocticron knows no equal. The question of course is, how good is this lens optically? How does the image quality stand up to the image quality of a bright lens on a camera with a full-frame sensor? In March 2014, we got the opportunity to try that out.
Panasonic LUMIX G LEICA DG NOCTICORON 42.5mm f/1.2 (Model: H-NS043) with Olympus OM-D E-M1 and the Panasonic GH3
Click (2x)on the image above for a larger version
Panasonic 42.5mm Nocticron @ f/1.2, 1/125 sec, ISO 125 
A focal distance of 42.5 mm (in terms of field of view equivalent to 85 mm on a camera with a full-frame sensor) is a favorite for making portraits. Therein, the Panasonic 42.5 mm distinguishes itself in a positive sense from the equally very good Olympus 75 mm 1.8, with which you stand further away from the model if you want to make a full-screen portrait.
A high sharpness of the subject in combination with a nicely vague background gives a portrait extra power. In many other situations as well, the large f/1.2 opening delivers pictures in which disruptive elements in the background are lost in a "creamy bokeh". Above, you can see a practice shot of a cake in a shop window, made without a tripod at f/1.2. The original picture has a higher contrast and therefore an even greater impression of sharpness. Here, the contrast is correctly lowered – and the shadows are also made lighter – in order to show something of the lovely background blur. The high sharpness and the contrast at full opening are really unprecedented, and the transition from sharp to blur is also nicely even.
Construction and auto focus
The LEICA DG NOCTICRON 42.5mm/F1.2 ASPH. /POWER O.I.S. doesn't only carry the prestigious LEICA logo. The construction of the Panasonic 42.5 mm is professional-level, equivalent to – and in some respects even better than – professional lenses for SLR cameras. The lens housing is made of metal and has a luxurious matte black coating. In comparison with a bright lens for an SLR camera, this lens is delightfully light and compact. For a professional photographer who switches to a Panasonic GH3 or Olympus OM-D EM1 or Panasonic GH4, it will be a change to work with such a compact, bright combination. On the other hand, the Panasonic 42.5 mm is the widest micro-43 lens that is on the market.
The beautiful metal sun shade (where do you still find that, these days?) is not screwed onto the lens, but is fastened with a screw. The aperture ring on the lens cylinder gives the user direct, intuitive control over the aperture setting. On the front of the lens there is an aperture ring, with which you on Panasonic cameras can adjust the aperture. Certainly for photographers from the analogue era, that's a big plus point. This aperture ring functions only in combination with a Panasonic camera. Owners of an Olympus camera will set the aperture in the way to which they're already accustomed.
Focusing with the auto focus of the Panasonic 42.5 mm is, both on the Olympus OM-D E M1 and on the Panasonic GH3, a pleasure – not only during the day but also in low light. First of all, you get a fantastically clear viewfinder image, with which you can work well in the dark without trouble from noise. Where you can no longer (manually) focus with an optical viewfinder, because the viewfinder image becomes too dark, the Panasonic 42.5 doesn't leave you stranded.
And the auto focus is lightning fast and super precise. Where the accuracy of phase detection AF and the chance of front and back focus drops with bright lenses (apertures larger than f/2.8) for SLR cameras, the Panasonic 42.5 mm really shines. This is shown in the image shown here, which I've borrowed from the Panasonic website.
Vignetting
With bright telephoto lenses on cameras with a full-frame sensor, it's not unusual to encounter vignetting over 2 or more stops. Only after stopping down multiple stops is the vignetting of full-frame no longer visible. Here too the Panasonic Nocticron distinguishes itself in a positive way.
In the Panasonic 42.5 mm f/1.2 practice shots, we encountered no visible vignetting, even not at full opening. Both files saved in the camera as jpg and in unedited RAW pictures that we converted to TIF with DCRAW confirmed that image. Hallelujah!
In other tests of this lens, at full opening there is more than 1 stop vignetting, but our sample never showed, both in the test lab and in the practice shots, more than 1 stop vignetting.
Panasonic 42.5 mm @ f/1.2

Distortion
Distortion is practically absent. That is not because the distortion is corrected by the camera in the jpg files, or by opening the RAW files in Lightroom or Photoshop. And if you convert a RAW file with DCRAW, the distortion is unbelievably low.
Image stabilization
The limited sharpness depth, trademark for lenses with a large aperture, ensures that even the slightest shaking of the hand will lead to blur. Your pictures don't really become unfocused, but you lose the beautiful micro-contrast with which this lens distinguishes itself from most other lenses.
The Panasonic 42.5 mm, happily, is outfitted with optical image stabilization, POWER O.I.S. (Optical Image Stablizer), which not only compensates for small, fast movements, but also for large, slow ones. Hereby you can even in situations with little light, such as in the evening or indoors, make super-sharp pictures simply by hand.
The Panasonic 42.5 mm has an image scale of 0.1: the subject in real life is 10x larger than it is displayed on the sensor. That compares with an image scale of 0.2 for a lens on a camera with a full-frame sensor. Because the sharpness of your pictures is very high, you can confidently be a bit sneaky and make a partial enlargement.
Flaring
The Nano Surface Coating technology of Panasonic is used on the LEICA DG NOCTICRON 42.5mm/F1.2 ASPH. /POWER O.I.S. Because the index coating with extra low refraction and nano structure is applied to the lens surface, reflection across the entire light range (380-780 nm) is significantly reduced. The result according to Panasonic is: super sharp photos with significantly less ghosting and flare. Even so, under extreme circumstances you can get ghosts, even if you use the large sun shade. The Panasonic 42.5 performs here just as well as a bright lens on an SLR camera.
Panasonic 42.5mm Sharpness
The shout of "Hallelujah!" is certainly applicable on this part. In the measurement results, the highest sharpness is reached at f/4, but the differences between f/1.2 and f/11 are so small that most photographers will experience the sharpness as constant across the entire aperture range, from center to corners. At full opening, the contrast is already very high and the resolution in the corners is far above 1500 lines per image height. That's something that we (practically) never find with bright lenses, regardless of the sensor format or the number of megapixels of the test camera. Absolutely top class.
In order to compare MTF50 results for this lens with MTF values for lenses tested on cameras with an APS-C or full frame sensor, we set the micro-43 test camera to a 2: 3 ratio. In other words: we tested this lens with a resolution of 14 megapixels (2:3 ratio) instead of 16 megapixels (4:3 ratio). Using the native 4:3 aspect ratio will yield slightly higher MTF values.
If you compare the Panasonic 42.5 mm f/1.2 Nocticron with the sharpness of 85 mm lenses on a camera with a full-frame sensor at f/2.8 (or a 50 mm lens on a camera with an APS-C sensor at f/1.8), then the Panasonic wins in terms of sharpness over most other lenses that we have tested so far. If you compare the Panasonic 42.5 mm with the Olympus 75 mm f/1.8 or the Panasonic 35-100 mm at f/5.6, then the images are all but impossible to distinguish from each other. All three deliver a sharpness that will satisfy even demanding professionals.

Panasonic 42.5mm + Panasonic GH3, f/5.6. 1/4000, 125 ISO
Tip: It's worth the trouble of experimenting with the camera settings for sharpening of jpg files. Panasonic deliberately chooses a moderate amount of sharpening if you save files in the camera as jpg. This results in pictures with few artifacts, which can arise with sharpening. Olympus chooses for more sharpening. It is a matter of preference which way you go.
In order to keep the test results of all micro-43 lenses comparable, we usually test with an Olympus camera, but if you apply the standard camera settings, you get the same results with a Panasonic camera. Above you can see two excerpts from one picture, which was simultaneously saved in the camera (Panasonic GH3) as a jpg (natural photo style) and as a RAW file. The edited RAW picture (left) looks sharper and shows more details. If you find the edited RAW file nicer, then choose the photo style Vivid.
Chromatic aberration Panasonic 42.5 mm Nocticron
The lens system includes fourteen elements in eleven groups and makes use of two aspherical lenses, one ED (Extra-low Dispersion) lens and one UHR-index (Ultra High Refractive) lens. The aspherical lenses suppress aberration and distortion. The ED lens ensures a sharp, high contrast without color bleeding in the corners. The UHR lens, which makes the small increments of the lens unit possible, offers high optical performances, for images with clear contrast from the middle to the edges.
Bokeh
What is especially nice about the aperture blades of the Panasonic 42.5 mm is that the bokeh remains nicely round when you stop down. A light source in the background aquires at f/5 with other lenses an angular aperture shape; the bokeh of the Panasonic 42.5 mm Nocticron remains nicely round.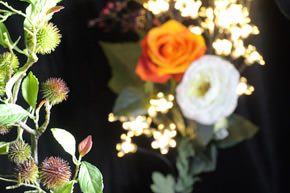 The built-in superior focusing system ensures outstanding resolution and a fantastic contrast, from close up to infinite focus. Thanks to the built-in, newly developed stepper motor, focusing while shooting photos and video goes smoothly and silently. In particular, the AF performance is superior to that of AF with phase detection when using a fast lens with a low F value. In combination with a LUMIX-G camera, users benefit from a fast and especially precise Contrast AF system.
Conclusion Panasonic 42.5mm Nocticron review with Olympus OM-D EM1
Advantages
Unimaginably high image quality on all aspects and at all apertures
Lovely bokeh
Extremely high brightness
Lightning fast and super accurate AF
Fantastic construction quality
Disadvantages
The suggested retail price is on par with the image quality
Somewhat sensitive to flaring
We began with the question of how good the image quality of the most expensive micro-43 lens now on the market is. I can answer that quite briefly: It is the best micro-43 lens that we have tested. Hallelujah!
Auto focus is lightning fast and super precise. Where the accuracy of phase detection AF and the chance of front and back focus drops with bright lenses (apertures larger than f/2.8) for SLR cameras, the Panasonic 42.5 mm really shines. The image quality is also extremely high on all points. And the bokeh is comparable with pictures made with a camera with a full-frame sensor. Only the Olympus 75 mm f/1.8 offers for micro-43 lenses a similar image quality, but that is, with its longer focal length, less universally useable. What's noticeable in comparison with bright lenses on SLR cameras is not only that the AF is more precise, but also that the high sharpness and the high contrast that the Panasonic 42.5 mm shows at full opening. If you compare a picture from the Panasonic 42.5 made at f/1.2 with a picture from an 85 mm made at f/2.8 on an SLR camera with a full-frame sensor, then it would not surprise me if most photographers would choose the Panasonic.
In terms of focal distance, the Panasonic Nocticron 42.5 mm has competition from the cheaper Olympus 45 mm f/1.8 and the more versatile Panasonic 35-100 mm f/2.8. Those are very good lenses with a very attractive price/quality ratio. But in terms of brightness (the Panasonic 42.5 mm receives two to four times as much light) and construction quality, the Nocticron belongs to a whole other class. And you pay for that.
At 1,499 euros, the Panasonic 42.5 mm Nocticron is the most expensive lens for micro-43 cameras, and therefore this lens is not in everyone's reach. Otherwise, this is a lens with significant advantages. The construction and image quality are so exceptionally good that this lens, in my eyes, is certainly not too expensive. More importantly: the Panasonic 42.5 mm Nocticron is more than worth every euro that's asked for it.